Fall 1997. Monticello.

Porcelain centerpiece. 7" h. x 10-1/2" diam. $62.

1998 Pottery Barn

Glass vases with aluminum lids.
Small, 5 x 4 x 4"h. $15.
Large, 5 x 4 x 6.25"h. $19.
Set of 2, one each size, $30.
1999 Martha by Mail.

Stacking Scalloped Flower Vase. Fluted tiers can be arranged in a tower or displayed individually. Each level has slots for narrow stems. White ceramic. Base, 10.25"d.; mid section, 7.5"d.; top, 5"d. $28.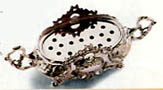 TouchStone Spring 2000 Catalog

Baroque Floral Arranger in Silverplate
3 pieces: stand, removable water dish, and arranger-plate. 13.5"l. x 4"w. x 5.25"h. $70.

Solutions Holiday 2000 Catalog.

The Perfect Arranger
Flexible stainless steel, 4.5"l. x 3"w. x 3.5"h. $24.50.

Victorian Replica Flower Arrangers offered in July 2001 catalog by I Love a Deal.com. Lid has diamond cutouts for flower arranging. Both are cast iron painted creamy white. Pineapple (left) is 9.5"w. x 4"h. x 4.5"d. Topiary (right) is 6.5"w. x 6"h. x 5.25"d. Each originally $24 on sale for $12.99.

The Perfect Arranger
EximiousWinter 2005 Catalog.
Stainless steel, diswasher safe.
Sold as a set of two, each 4 1/8" x 3" x 2 3/4"h. $25
2007: Also sold in three sizes by Kinsman Company. This gardening supply company sells a variety of flower arranging aids under the Department Flower Arranging/Floral Supplies. They also have a mail order catalog. Prices range from $9.95 - $18.95.
This article contains 7 pages. You are on p. 6.
next... | page 1 | page 2 | page 3 | page 4 | page 5 | page 6 | page 7
FFG Home | Articles