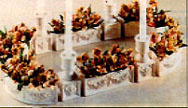 Oct. 1984.
Grand Finale. White ceramic centerpiece may be set up many ways. As shown, 10" across x 21" long. Ten pieces. Orig. $75, Now $44.99.

Oct. 1985.
Gardener's Eden. Two piece Duck Flower Arranger is handcrafted Italian earthenware with placement holes in the lid that support everything from delicate sprays of wildflowers to hardy, cultivated blossoms. 9" long, 7" high. $21.

Oct. 1985.
Gardener's Eden. Black Lead Flower Arranger is a frog and a vase combined. The base is honeycombed with "needles." The heavyweight cast lead arranger holds water. Hand finished with seven coats of enamel. Square 2-1/4" sq. x 1-1/2"h. $18. Rectangle (not shown), 1-3/4" x 4" x 1-1/2"h. $22.

Oct. 1985.
Potpourri. Ceramic vase with removable perforated disk. 3-1/2" x 4" across. Two wildflower vases...$9.95.

April 1986.
M.S. Imports Ltd. "Josephine Swan" is a reproduction of a French antique le plumier designed in the early nineteenth century to adorn the writing desk of Josephine Tascher de la Pagerie, Empress of France. Cast in white metal with a rubbed finish, Josephine measures 7" x 5-3/4" x 3". She features a candlecup, water hole, and 6 smaller holes for flower stems. $55 delivered.

Jan. 1987.
Joan Cook. Handcrafted 9" ceramic figurine holds 8 cosmetic brushes and pencils with art deco artistry. An exotic desk top pencil holder, too. Deco Lady $17. (Ed. note: looks like a flower holder to me).
This article contains 7 pages. You are on p. 3.
next... | page 1 | page 2 | page 3 | page 4 | page 5 | page 6 | page 7
FFG Home | Articles