April 1984.
Williams-Sonoma. Heavy glass Flower Block holds its own water and has nineteen holes. 4" x 2-1/2" H. Made in France. $6.

April 1984.
Horchow Collection. Elegantly shaped low glass vase, handcrafted in Europe, to hold a small flowering branch or long stemmed flowers. 7" diam., 2" tall, Vase, metal frog and 1" tall dark wood stand. $30. Vase and metal frog only, $26.

July 1984.
Lillian Vernon. Flower arranger and candleholder. 3" heavy clear glass. Set of 2. 1 set $4.98.

Oct. 1984.
Gardener's Eden. This handsome glass Flower Block from France will hold water. 4" diameter. $6. Set of 2 $10.

Oct. 1984.
Gardner's Eden. Dome Flower Arranger. White ceramic is in two parts, the bottom holds water and has a special hole for the optional candle. 5" daim. $13. Set of 2 $24.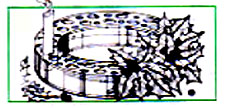 Oct. 1984.
Gardner's Eden. Center Piece Flower Arranger. Top has holes for stems, bottom holds water. Clear acrylic. 8-1/2" diam. $7.95.
This article contains 7 pages. You are on p. 1.
next... | page 1 | page 2 | page 3 | page 4 | page 5 | page 6 | page 7
FFG Home | Articles