Jan. 1987.
The Paragon. Dinosaur Vase. Made of ceramic with 5 holes on the back. 5"high. By Fitz and Floyd. $9.00

Jan. 1987.
Horchow. The frog that's a frog! Solid brass vase holds your favorite flowers. Fill with water through the open mouth. Has a verdigris finish. Approximately 7" long x 4" tall. $32.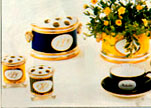 Jan. 1988.
Eximos. Small items are monogrammed potpourri holders. 3-1/2"h. x 3"dia. $69. Larger item is porcelain bow container. Semi-circular shape. Displays flowers, bulbs or potpourri. Gleaming English porcelain with ram's head handles as originally produced by the Derby Factory. $165.

April 1988.
Gardener's Eden. Extra large hairpin holder, 4-3/4"diam. $20. Large hairpin holder, 3-1/2" diam. $11.50. Small hairpin holder, 2-1/2" diam. $7. Three piece needlepoint holder, 3-1/4" x 2" $9.50.

April 1988.
Winterthur. Somerset Flower Brick. In the 18th century flower bricks were widely used for fresh or dried flowers. Adapted from a design from Owen Jones' Examples of Chinese Ornament. 3-1/4"h. x 5-3/4"w. $20.

April 1988.
Charles Keath, Ltd. Ceramic flower arranger handpainted a la Majolica. 8"h. $36.
This article contains 7 pages. You are on p. 4.
next... | page 1 | page 2 | page 3 | page 4 | page 5 | page 6 | page 7
FFG Home | Articles