Radioactive Barboy?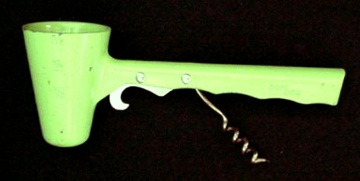 Kenn Cameron writes: Found this Bar Boy the other week. At first, I thought someone had gotten adventurous with a spray can and given it a coat of paint. A closer look revealed this heavy enamel paint was put on at the factory. The green paint even has a fluorescent aura when seen in dim light. I was curious to know if they made them in other colors, or is this one of a kind?

Don: I've never seen a painted one. Wouldn't alcohol adversely affect the paint? Would it cause it to break down and be mixed with your drink? In this case, if it's a Grasshopper, I guess no one would notice. Let's keep the jury out until we see a second one?

A week after Kenn's photo and question was posted, Jim Nichols (Memphis, Tennessee) sent a photo of his "radioactive barboy." Jim's barboy is a bright orange.
Bar Boy Information

Bar Boy - the six-in-one appliance from Tempro Incorporated, 215 Church Street, New Haven, Connecticut. Tempro billed itself as "Creators, designers, and manufacturers of Timely Promotional Merchandise."

The Bar Boy has been found in celebration of "Eberlin's 75th Year 1872 - 1947" stamped on the handle and as a souvenir of the 1975 meeting of the American Die Casting Institute

The Bar Boy sold for $1.00 in a 1940's Bar Mart Catalog.

The Game Room, Washington, D. C. offered the Bar Boy for $1.00 in this 1947 catalog.
---
email: corkscrew@bullworks.net
©2001 Donald A. Bull