The Virtual Corkscrew Museum Signature Collection
C. Sandheger Knives
Millenium Knives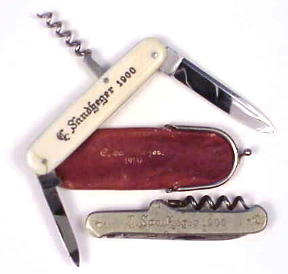 Two knives manufactured by Henckels, Solingen, Germany. Both knives and the leather case read "C. Sandheger 1900."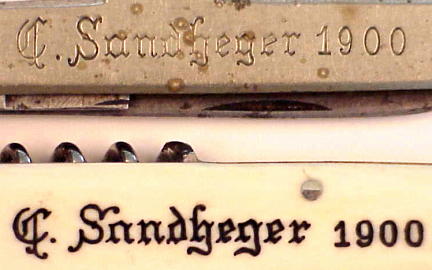 Who was Sandheger?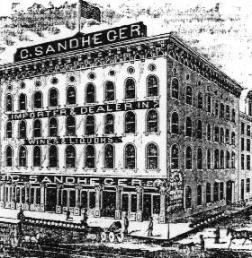 In 1857 Sandheger and Hudepohl, the famous brewing family name, started their firm. Hudepohl retired in 1860. Christopher Sandheger remained in business as an importer and wholesale dealer in wines and liquors and a rectifier of whiskies. Sandheger was a native of Germany and had emigrated to the United States at an early age. The Sandheger business was located at 21 - 27 Court Street between Main and Walnut Streets in Cincinnati, Ohio.

The main brick building was five stories high and a large rectifying house stood behind this building measuring 20' x 80'. Sandheger's buildings were demolished in 1934. Today the Cincinnati Post is in the Sandheger location.
---
HELP!

Do you have a picture of Christopher Sandheger?

Do you have any additional information on Christopher Sandheger for this page?

Do you have a "Signature Corkscrew" that you would like included in The Virtual Corkscrew Museum? Send pictures including close-up of signature with any details you have to corkscrew@bullworks.net.
---
Return to the Signature Collection
©2000 Donald A. Bull