The Virtual Corkscrew Museum Signature Collection
Rubinoff / DeGroat Corkscrew
submitted by Justine Kanodia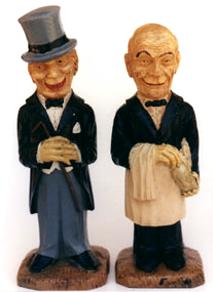 Syroco corkscrews. One is signed to Dorthy DeGroat from Rubinoff the Great Violinist. For information on Syroco, see http://www.bullworks.net/virtual/syroco/syroco.htm.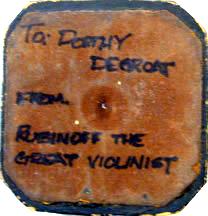 David Rubinoff
David Rubinoff was born in 1897 in Russia. He started playing the violin at the age of five and performed with the Russian Army Band. He graduated from the Warsaw Conservatory at the age of eleven and was "discovered" by Victor Herbert who brought him and his family to Ameica. With the help of Rudy Vallee he got into radio and subsquently the movies. He entertained troops during the wars and performed for Presidents. He married four times with the fourth being at the age of seventy-five. He died in 1986.

In the 1930s he was a regular on the Chase and Sanborn Radio Hour. He was also an orchestra conductor and appeared on shows with Eddie Cantor and Jimmy Durante.
| | |
| --- | --- |
| | When Linda Thompson Worley's mother attended a Rubinoff concert at William Penn Auditorium May 16, 1963, she came home with an autographed program. Thank you, Linda, for sharing this with the museum. |
---
HELP!

Who was Dorthy (Dorothy) DeGroat?

Do you have a "Signature Corkscrew" that you would like included in The Virtual Corkscrew Museum? Send pictures including close-up of signature with any details you have to corkscrew@bullworks.net.
---
Return to the Signature Collection
©2000 Donald A. Bull