The Virtual Corkscrew Museum Signature Collection
Piel Corkscrew
Gottfried Piel's Corkscrew was made by Wilcox & Evertsen of New York City between 1892 and 1896. The large silver mount is engraved with his initials. This was Piel's personal corkscrew.
Who was Gottfried Piel?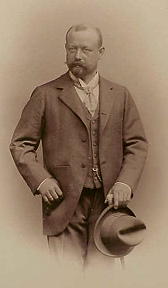 Gottfried Piel was the founder of the Piel Brothers Brewing Company of Brooklyn, New York. Piel left his home in Dusseldorf, Germany in 1882 at the age of 29 to emigrate to the United States. In 1883 he convinced his brothers Michael and Wilhelm to join him in the purchase of the Landzer Brewery.

Piel's first year beer production was 850 barrels and in ensuing years, Piel Bros. continue to grow rapidly. It became a Brooklyn tradition and, although the brewery closed after some rough years in the 1960s and 1970s, the brand name is still in use. The Piel name was purchased by the Schaefer Brewing Company in 1973.

Gottfried Piel died in 1935 and his corkscrew was left to his daughter Sophia, widow of Pinckney and wife of Peter William Dawson. The corkscrew passed to Peter William Dawson upon the death of Sophia. In 1980 Dawson died and the corkscrew passed to his nephew Jim Lowry. Jim Lowry sold the corkscrew to Don Bull.
---
Do you have a "Signature Corkscrew" that you would like included in The Virtual Corkscrew Museum? Send pictures including close-up of signature with any details you have to corkscrew@bullworks.net.
---
Return to the Signature Collection
©2000 Donald A. Bull