The Virtual Corkscrew Museum Signature Collection
Conworth Corkscrew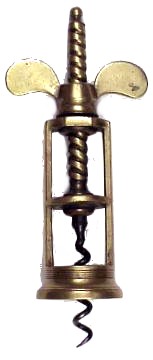 Corkscrew with butterfly handle and centering button in frame. This is an "Obituary" corkscrew engraved on the side of the frame "Job Conworth, Obit. March 1st, 1855, 73 Years."

Who was Job Conworth?
In The University of Nottingham Library Manuscripts and Special Collections there is a catalogue of the papers of Henry Pelham-Clinton, 4th Duke of Newcastle under Lyne in the Newcastle collection. This entry is recorded on February 21, 1814:

Sends approval of Prince Regent to appointments of Job Conworth as Lieutenant and George Thornton as Quarter Master in 3rd Nottinghamshire Militia.
July 11, 2003 - Keith Pearce recently bought a book in Bedford, Bedfordshire, England from the library of Job Conworth and inscribed by him on January 18th, 1799. Note the similarity in the book signature and the corkscrew signature.
February 6, 2004 - Elizabeth Pugh, Whitehorse, Yukon, Canada wrote:

While searching for information about the name CONWORTH on the internet I came across your website re the Conworth corkscrew. I may be able to help you with who Job CONWORTH was as it appears he was a distant relation of mine.

Job CONWORTH (1) and his wife Elizabeth (BEART) CONWORTH of Peterborough had a son Job (2) who was baptised 11 Jan 1758 at St. John the Baptist, Peterborough. Job then had a son, Job (3) who died in 1855 in East Retford, Nottingham. He was married to a Catherine PRESLEY and had a son named Job (4) in 1827.

Job(1) and Elizabeth were my 4x great grandparents. Genealogy is my hobby but I have only recently begun research into this family.

I do have a copy of Job (3)'s will that I downloaded from the PRO Wills on line site. He calls himself a gentleman and names William NEWTON of Newark and George RIDER(?) (difficult to read) of Cheltenham (both "gentlemen") and appoints his son Job as his executor. He signed with rather a shaky "X" which could indicate he was ill at the time of the will being drawn up. It was dated 20 Feb 1855. Job had family connections in Bedfordshire. His brother John married in Wymington, Beds.
April 14, 2004 - Alwynne Conworth Mackiewe wrote:

Further work with my cousin Elizabeth Pugh from Whitehorse, Yukon, now tells us that Job of Corkscrew fame was baptised Thomas Job Conworth at Rushden, Northamptonshire on 23 March 1782, the son of John Conworth and Ann Fletcher.

May 8, 2004 - David Manners wrote:

My ancestor Francis Job Chambers (1855-1937) was given his middle name after his godfather, Job Conworth, attorney and landowner of 10 Carolgate, East Retford, Notts., and 'Ulley Hall', near Rotherham. The Chambers, a wealthy family of architects, lived on Crouch Hill, in north London. It is this Job Conworth's father who is commemortated in the corkscrew. The Conworths are recorded in C19th family diaries coming down to visit my ancestors in London and even sending boxes of peaches from Retford as gifts.
---
HELP!

Do you have a picture of Job Conworth?

Do you have any additional information on Job Conworth for this page?

Do you have a "Signature Corkscrew" that you would like included in The Virtual Corkscrew Museum? Send pictures including close-up of signature with any details you have to corkscrew@bullworks.net.
---
Return to the Signature Collection
©2000 Donald A. Bull