A Virtual Corkscrew Museum Review
The Crystal Palace
Why was Sanders' bar corkscrew called the "Crystal Palace?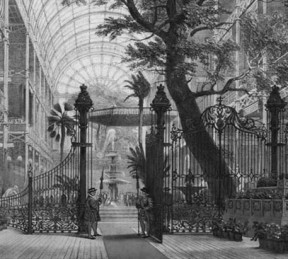 London's Crystal Palace was opened in 1851 for the Great Exhibition during the reign of Queen Victoria. Over six million people visited the more than 12,000 worldwide exhibits. After the fair closed, the Palace was moved to Sydenham Hill in South London where a new park was opened in 1854. It was the home of many important festivals and fairs until its destruction by fire in 1936.

One of the many striking features of the Crystal Palace were the huge gateposts in the central hall. Looking at the tops of these (below left) and the top of Sanders' uncorking machine, one can easily draw the conclusion that the roots of the cork remover's name were in the Crystal Palace.
---
©2001 Donald A. Bull