Dwight Dolliver's Finnish Corkscrew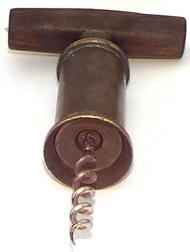 Dwight Dolliver writes: I found this in a small Finnish town 3 weeks ago. When I found it the screw was broken, but it was threaded, so my machinist friends made a new screw from an old T handle. My question is..where did it come from and what is it worth?

1. It has no markings that I can find.

2. It is old brass, and has few dings.

3. The handle appears to be hand carved.

4. The handle washer and the riveted shaft appear to be original.

5. The handle has very little play on the shaft.
For Ron's answer return to Q & A Page
email: corkscrew@bullworks.net