BRUSSEL'S SPOUT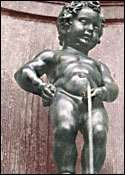 A block away from the Grand Place in Brussels, Belgium one can find the Mannekin Pis. It is a small statue of a little boy peeing. He's high up on his fountain pedestal and his smallness takes many visitors by surprise. This 1619 bronze statue replaced the original from 1388 which was lost. It was based on a model by Belgian sculptor François Duquesnoy. Not far from the little boy is a museum which displays the 500 plus costumes that have been presented to the city over the years for dressing the boy. He is known by the people of brussels as their oldest citizens.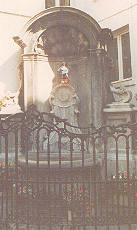 When I visited Brussels in 1985, I went to the intersection where the statue is located and kitty-corner from the statue was a souvenir shop. The display in the window was of hundreds of Mannekin Pis' in all sizes and materials. The number with corkscrews was mind-boggling and, again, in all sizes.

During the past 25+ years I have been offered the Mannekin Pis corkscrew through the mail many times for prices ranging from $1 to "It is extremely rare and can you make an offer?" Descriptions given include "Naughty Boy"; "Corkscrew is his Private Part"; "I don't know how to tell you this but..."; "Made in Alaska many years ago"; "Rare - I've never seen this before"; and "Hard to find." Most I passed up for fear of getting stiffed.
| | |
| --- | --- |
| All of these have fixed worms. Some are marked BRUXELLES. Note that he is holding his worm with his left hand. Apparently Mannekin Pis is lefthanded! | This is a very early Mannekin Pis. It has a joint so it can be moved up and down. |
| There are many imitations of the Mannekin Pis corkscrew including these African looking variations. When the head is removed from the tall one in the back, a cap lifter is exposed. Although most of these also appear to be left-handed, some hold their worms with both hands. | More imitations including a fly fisherman. The figure in the back has a lighter under its head. |
| | | |
| --- | --- | --- |
| | The Mannekin Pis in Brussels pees all day long - every day. Here are some from the Bull and MacLean collections. | |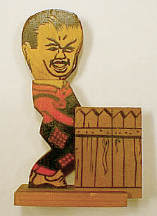 Slide the barrel to the left to reveal...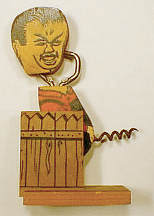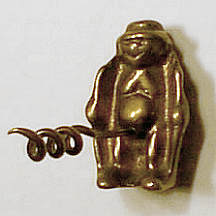 THE FLASHER
---
email: corkscrew@bullworks.net
©1997 Donald A. Bull