...and sew on
You probably recognize both of these famous name sewing machines - Pfaff and Singer. But would you expect either of these names to appear with an object having a corkscrew? Do you know that bottles of sewing machine oil were once corked and required a corkscrew for opening?
The knife on the left advertises "G. M. Pfaff, A. G., Nähmachineen-Fabrik, Kaiserslautern."

One of the knives on the right advertises "Singer Sewing Machines" and the other "Singer Varrógépek."

The postcards are French.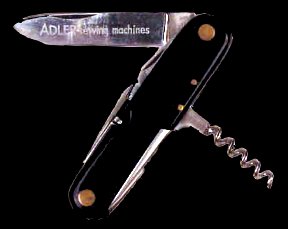 This six blade knife advertises "Adler Sewing Machines" on the master blade. The reverse of the blade is engraved "Adler Industries Inc." Here's an Adler advertising postcard mailed in 1941: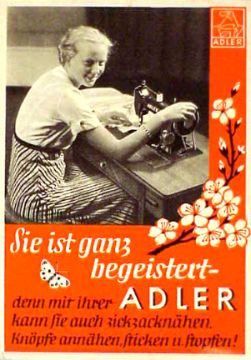 More Advertising Knives
---
email: corkscrew@bullworks.net
©2001 Donald A. Bull