Who are these people?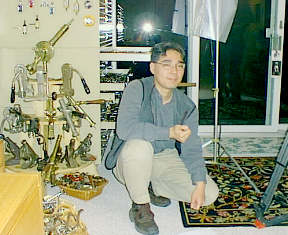 Hideki Kimura

Who is this guy and what is he doing at the Bull house? He's from Hiro Enterprises of New York City and...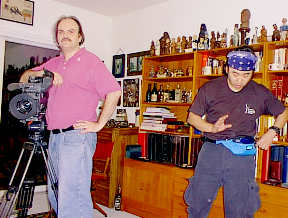 Michael Vance and Hisato Takahashi

...he's with these two guys who are from Michael Vance Productions of New York City.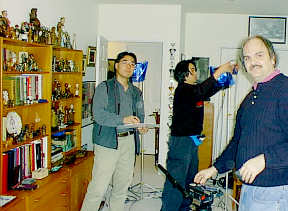 The crew fromNew York

The trio had flown in to Roanoke from New York on one of those little puddle jumper airlines. They arrived. Their baggage didn't. They had to wait three hours for it to arrive on another plane before beginning their trek over the mountain to the Bull house.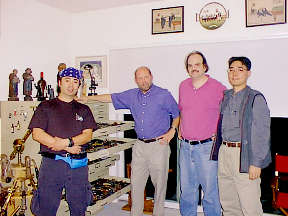 The trio meets Bull

Once at the house, they spent three hours filming corkscrews for Japanese television.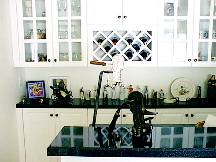 Capone and Rogar Corkscrews

In addition to spotlighting the Bull collection for the Japanese TV audience, the program will include a segment on the "Champion" Corkscrew. The Champion is based on Michael Redlinger's patent number 589,574 of September 7, 1897. It was manufactured by Arcade Mfg. Co. of Freeport, Illinois.

Robert Crist, President of Rogar International of Richmond, Virginia says they have "produced over a quarter of a million wine openers based on the Champion's original design. In the 1970s Rogar introduced the Vintner, a solid brass model, and in the 1980s the Estate was brought to the market. The Estate was made of aluminum and priced for the average wine enthusiast."

To celebrate the 100th anniversary of the Redlinger invention, Rogar produced a silver version of the Champion (photo rear). A limited edition is now being produced for the Japanese market.

The Champion in the foreground was used in Al Capone's Chicago bar on Van Buren St. and later at his estate in Lake Geneva, Wisconsin. The Champion was purchased at an IRS estate sale of the seized Capone property by the family of Marvin Dynes, Forest Lake, Minnesota. The corkscrew was acquired by Don Bull from the Dynes family in March 1983.
---
email: corkscrew@bullworks.net