Silver Picnic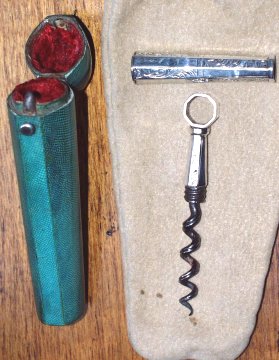 Mel Rodman writes: I recently paid a lot of money for this beautiful picnic, in its original shagreen case and pouch. It was described as Dutch. There's a maker's mark on the bottom, which is a stretched hexagon containing the letters MV and L, the last being made by a horizontal line from the bottom of the V. Does it ring any bells for you?

Ron: Congratulations, what a beautiful silver picnic corkscrew. I am afraid I cannot help in the silver mark area but the fluted wire helix suggests 19th century England possibly not Holland.

If it is English it would be normally marked sterling. I suppose the dealer should know about the origin of the silver mark. I don't remember seeing a hexagonal silver sheath with matching silver sheath hole before. It is a rare and interesting corkscrew, the silver sheath must be heavy to withstand the forces of extracting a cork! Then again if it is Dutch it may not be sterling but a harder European silver which might explain why the sheath does not appear to be scored of marked from use

Mel's followup: I was able to find the maker's mark in a reference book today: he was M. van Leeuwen of Amsterdam, working about 1830. There is also an "Assay Mark" on the case, identifying it as silver--Dutch equivalent of "Sterling", I guess.So it really is Dutch.
email: corkscrew@bullworks.net