The Practical Corkscrew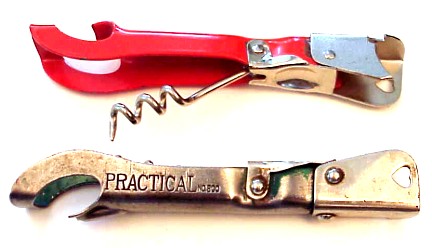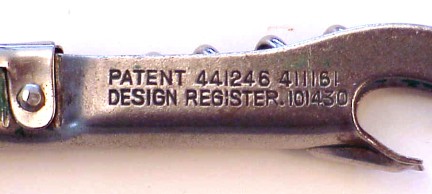 Bob Roger: On page 39 of The Ultimate Corkscrew Book, in lower right corner pic, There is an orange CS noted Turkey c. 1988. I believe I have an identical one, except that mine is green. Mine is marked "PRACTICAL No. 800 Patent 441246 411161 Design Register 101430". Does yours have similar markings? And do you know which country the patent numbers apply to? They are not US patent numbers. I don't know if Turkey has a patent numbering system like this.
Don: Good question. Since the book was done, I acquired one like you describe but, frankly, had never matched it up to the one I got in Turkey. I searched all European patent offices for the numbers and came up empty handed.

Ron: I have one similar in rather heavy stamped steel marked PRACTICAL No. 800 Patent 441246 411161 Design Register 101430 with a heart shaped cutout on the side of the can opener.

I also have two other similar sized but lighter in construction examples (green & blue) with a similar can opener and heart cutout but with the crown cap lifter formed in the can opener portion. The wire helix folds out from the side of the painted handle not the bottom like the PRACTICAL. Both are marked PAT 13505 PAT 3535 STAINLESS STEEL with the green example also marked JAPAN. I should think the Practical is also Japanese with the patent numbers on both items as the designs were possibly patented in Japan or perhaps added to make it more desirable in the marketplace.
email: corkscrew@bullworks.net