London Rack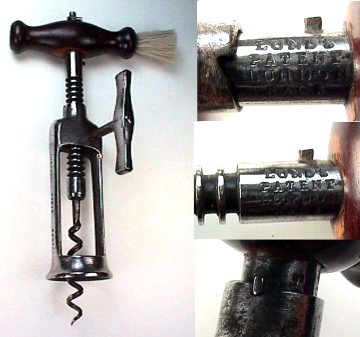 John Cornell: I just acquired a Lund's Patented London Rack, at least that is what is stamped on the stem just below the handle, but there are not any markings on the frame such as I've read elsewhere like Cornhill and Fleet Street, London. Did certain Lund's Racks appear without the London address stamped on the frame or are all patented ones stamped on the frame?
Ron:Congratulations on your recent acquisition, a Lund's Patent London Rack should be in every serious collection.

The patent rack was made in an early version with a rod frame and later with a cast steel frame. I had to get mine down from its case, it is marked LUND'S PATENT LONDON RACK on the upper shaft and LUND MAKER CORNHILL AND FLEET ST LONDON on the sides of the cast frame. My later version has a pin on the upper shaft to engage a neck notch in the upper frame. I have also had identical unmarked examples with the pin/notch feature. I am sure they must have made examples without the street names so I would not be concerned.

As a marketing feature the mark LUND'S PATENT LONDON RACK says it all and the street names were possibly just dropped to save a few pennies on the production costs. I don't know all the variations and markings produced - British Corkscrew Patents from 1795 by Fletcher Wallis p20 and Corkscrews for Collectors by Watney & Babbidge p70 show the earlier patent rod frame examples and their marks.
email: corkscrew@bullworks.net