French Corkscrew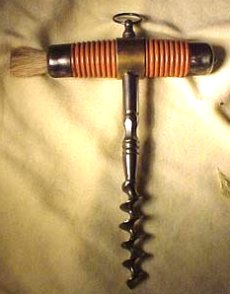 Robert Jennings: I acquired this corkscrew about 20 yrs ago. I just decided to do some research on it and the Virtual Corkscrew Museum popped up. I'd certainly appreciate any help about the piece. Here's the marking:

Ron: Your corkscrew is French, made in the latter part of the 1880's. The "L.B. Paris Depose" mark indicates it was manufactured by A. Leboullanger Co. of 31 Rue Michel-le-Comte, Paris, France. L.B. stands for "LE BOULLANGER" and was a mark first used by the George Leboullanger & Sons (1846-1889) in 1873. The mark "DEPOSE" indicates that the design/shape had been possibly registered with the French Patent Office.

The Leboullanger family was a prolific manufacturer of many types of corkscrews from simple all metal pocket corkscrews to the more mechanically complex. Your corkscrew is a fine example with a decorative faceted shank, perfect web helix, ribbed boxwood handle with a nickel plated brass centre band and steel end caps. You have a wonderful start to a corkscrew collection.
email: corkscrew@bullworks.net