Wire Corkscrew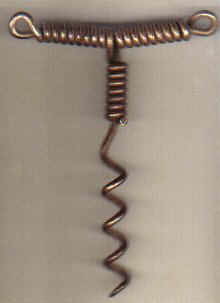 Clive Quinn: What can you tell me about this unusual wire formed corkscrew?

Ron: This twisted wire corkscrew made from a single piece of wire. It is definitely not a C.T. Williamson or Clough manufactured corkscrew.

I believe your twisted wire corkscrew is possibly English after the British Registration No 50027 of May 31, 1886 by W.T. Taylor Co. Ltd of Newhall Works, Birmingham. This corkscrew made from a single piece of wire was registered by a English firm after the introduction of Clough wire corkscrews to Britain in 1878. below is a picture of this registered design which has one handle end loop marked marked "RD 50027". An example identical to your picture on the right has a slightly larger wire helix with one end of the wire wrapped around to form the shaft. This twisted wire handle design was never used in America and appears to be a unique English feature used with the advent of the 1886 Taylor registration. I consider both models to be somewhat rare as examples do not surface very often.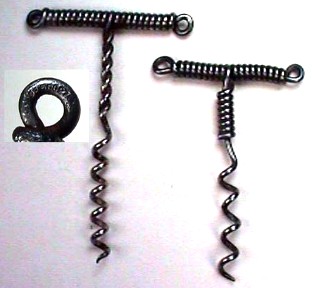 email: corkscrew@bullworks.net