Bonus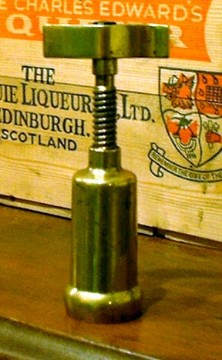 Aubrey Bell writes: Recently, while visiting one of my favorite antiques shops, I acquired a solid brass corkscrew. It stands about 6" tall when unscrewed. It's about 1 1/2" in diameter at the bottom. The initials, ACV, have been engraved on the side. Can you tell me anything about the style of corkscrew. I've seen it referred to in an antiques price guide as "double action." Is that accurate?

Ron: Your corkscrew is recent and was sold under the name "Bonus" by the Italian manufacturer Industrie Casalinghi Mori Spa. It is "Model Art 50." It was offered by several companies as a gift with engraving available (therefore, the initials on yours). In Canada the exclusive distributor was R. S. V. P. Marketing, Ontario, Canada M3B2V9.

Here's a picture of the "Bonus" with an original box as shown in the book Boxes Full of Corkscrews.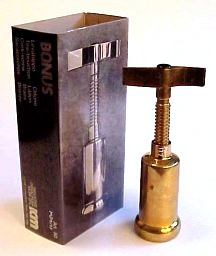 email: corkscrew@bullworks.net