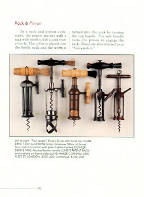 I want to show you a few sample page layouts from the book. Each chapter has a brief description of the type. Each photo has a caption with descriptions and prices.
The "Rack & Pinion" chapter includes a four poster King's Screw with bone top handle; Lund Bottle Grips corkscrew; A barrel form rack and pinion with patent plate marked DOWLER; LUND'S PATENT RACK.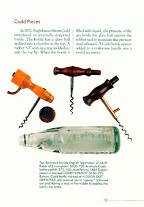 Codd Pieces
In 1870 Englishman Hiram Codd introduced an internally stoppered bottle. The bottle has a glass ball molded into a chamber in the top. A rubber "O" seats in a ring molded inside the top lip. When the bottle is filled with liquid, the pressure of the gas holds the glass ball against the rubber seal to maintain the pressure until released. A Codd bottle opener added to a corkscrew handle was a useful accessory.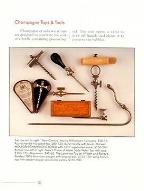 Champagne Taps & Tools
Champagne or soda water taps are designed to penetrate the cork of a bottle containing gaseous liquid. The user opens a valve to drawn off liquids and closes it to preserve the bubbles.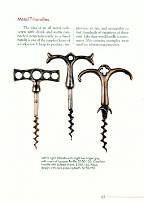 Metal T Handles
The idea of an all metal corkscrew with shank and worm connected perpendicularly to a fixed handle is one of the simplest forms of corkscrews. They were cheap to produce, impervious to fire, and susceptible to rust. Hundreds of variations exist and, like their wood handle cousins, many 20th century examples were used for advertising purposes.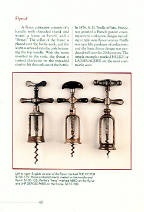 Flynut
A flynut corkscrew consists of a handle with threaded shank and worm, a frame or barrel, and a "flynut." The collar of the frame is placed over the bottle neck and the worm is screwed into the cork by turning the top handle. With the worm inserted in the cork, the flynut is turned clockwise on the threaded shaft to lift the cork out of the bottle.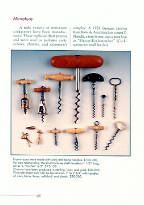 Miniatures
A wide variety of miniature corkscrews have been manufactured. These replicate their parents and were used as perfume corkscrews, charms, and salesman's samples.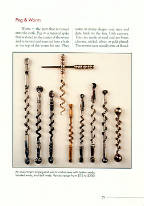 Peg & Worm
Worm=the part that is turned into the cork. Peg=a tapered spike that is stored in the center of the worm and removed and inserted into a hole at the top of the worm for use. They come in many shapes and sizes and date back to the late eighteenth century. They are made of steel and were brass, chrome, nickel, silver, or gold plated. The worms were usually wire or fluted.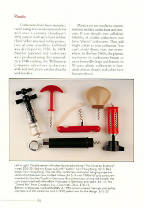 Plastic
Plastics are any synthetic organic material molded under heat and pressure. If you already own celluloid, bakelite or catalin corkscrews, you have "plastic" corkscrews. They add bright colors to your collection. You can't avoid them, they are everywhere. In the late 1960s the plastics revolution in corkscrews began to move forward by leaps and bounds. In 30 years plastic corkscrews in hundreds of sizes, shapes, and colors have been produced.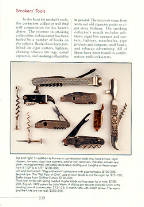 Smokers' Tools
In the hunt for Smoker's Tools, the corkscrew collector will find stiff competition for his heart's desire. The interest in smoking collectibles (tobacciana) has been fueled by a number of books on the subject. Books have been published on cigar cutters, lighters, chewing tobacco tin tags, camel cigarettes, and smoking collectibles in general. The interests run from worn out old cigarette packs to cigar store Indians. The smoking collector's search includes ashtrays, cigar box openers and cutters, lighters, matchsafes, pipe prickers and tampers, snuff boxes, and tobacco advertising. All of these have been found in combination with corkscrews.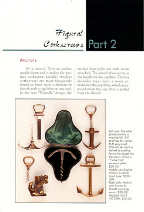 Part Two of the bookcovers figural corkscrews including these chapters:
Anchors, Anri, Bar Bum, Bar Sets, Bottles, Brussel's Spout, Bulls, Cats & Mice, Devilish Things, Dogs, Fish, Golf, Horses, Jolly Old Topper, Keys, Kirby, Legs, Mermaids & Folding Ladies, Parrots, People, Pigs, Pipes, Pistols, Sailing, Syroco, Wild Kingdom, Wood Carvings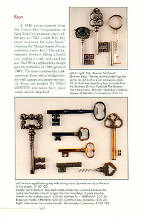 Cellar Keys
"Down in my cellar, I've been changing everything around. I've a secret hidden there. I'll guard it with my life There's only one mistake I made. I told my wife. Now everybody wants a key to my cellar. People who wouldn't give me a tumble. Even perfect strangers are beginning to grumble 'cause I won't let them have a key to my cellar. They'll never get in just let them try. They can have my money. They can have my car. They can have my wife. If they want to go that far, but they can't have the key that opens my cellar, if the whole darn world goes dry." The 1919 Prohibition song was composed by Rose, Baskette and Pollack. What was the secret hidden in the cellar? Why not a bunch of corkscrew cellar keys?