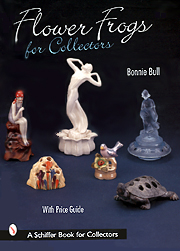 Bonnie Bull's Flower Frogs for Collectors is the first comprehensive guide to these fascinating collectibles. In this book 900 flower frogs are shown in over 600 full color photographs with detailed descriptions and values. The book is divided into three sections: Pottery, Glass, and Metal. Within each section are histories of the manufacturers followed by their wares. Collectors of Beagle, Brush-McCoy, Cambridge, Cowan, Dazey, Fenton, Fostoria, Fulper, Heisey, Haeger, Rookwood, Roseville, L. E. Smith, Van Briggle, Viking, Weller, Westmoreland, and numerous other American companies will delight in seeing their favorite frogs grouped together. In addition, flower frogs from Germany, Japan, England, Czechoslovakia, and several other countries are abundant.
There are hundreds of gorgeous dancing ladies, frolicking children, delightful frogs and turtles, colorful backyard and exotic birds, butterflies and dragonflies, large and small elephants, jumping fish, blooming plants, sailing ships, plus an amazing array of metal wire and loop creations.
Hardbound, 190 pages, 8.5" x 11". List Price $39.95. Published April, 2001. As of October 2015 I am no longer selling copies of my book.
Book Reviews: Read what others have to say about Flower Frogs for Collectors.