A Visit to the NYC Triple Pier Expo
March 1, 1997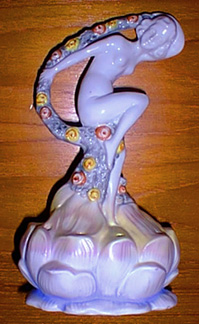 New York's largest antique's show is held twice a year at the NYC passenger ship terminals on the Hudson River. It is so big it fills three piers (hence the name). Every spring and fall my husband and I attend this grand event. It has become a ritual outing. I've often heard rumors of the rich and famous who have been seen attending, but we are so busy looking at all the merchandise we never notice. Each of the piers opens within an hour of the other, i.e. 9am, 10am and 11am. So one has to hustle to see everything.
Each year there are fewer flower frogs to be seen although there are still a reasonable number and each year the prices get higher. Mostly I go to look. This year, however, I did see a charming German lady with a painted garland and a lotus base that I could not resist (at right).
I saw several Weller frogs at one table. The simple mushroom/leaf type pieces were all priced at about $100. There was a "Boy Fishing" marked $295. When I inquired as to the price, the seller pondered the piece for a moment and said, $200. So maybe the prices are just high because New Yorkers love to bargain. Another booth had some Cowan pieces...$625. Even the Cowan look alike was $200. One item I had never seen before that I found quite charming, was a delft-looking rabbit approximately 4" high x 6" long in blue and white, marked "Mosanic," cost- $325. I passed it up. BB.
Some other prices were:
Fulper leaf $65
3 frog Van Briggle with bowl $300
Cambridge 2 kid in Amber $325, in green $225
Miniature ladies on fish, one standing one sitting, at $90 ea
Small German Vampire (my interpretation) Lady $150
Rookwood girl on rocks $425 (There's one on the internet for $225- http://www.tias.com/stores/ahouse-SOLD)