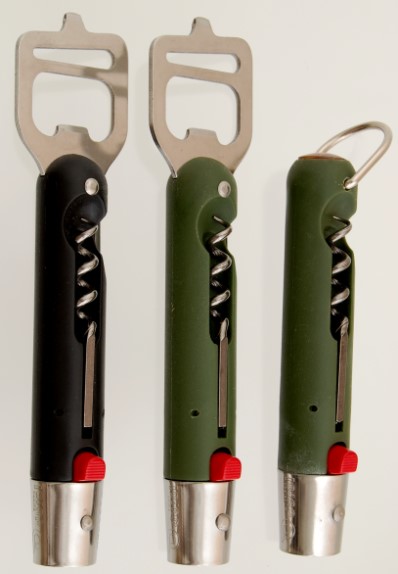 On September 27, 1977, the French firm Durol filed for a patent titled "Dispositif de verrouillage et de déverrouillage d'une lame de couteau ou autre outil ou Instrument pliant per rapport & son manche." Patent number 2,403,874 was issued April 20, 1979. The Patent is for a knife with an unlocking and locking blade. Pushing the red button unlocks the knife blade. When unfolded all the way, it locks in place and is again unlocked by pressing the red button.
Models were produced in various combinations with corkscrews, screwdrivers, ice picks, bottle openers, scissors, a nail file, and a compass. The drawings show only the knife. Four of seven models offered by the Mouli Manufacturing, the U. S. distributor, included a corkscrew (see brochure below). The two on the left in the photo have a knife blade, corkscrew, bottle opener, ice pick or marlin spike, and screwdriver. The example on the right has a knife, corkscrew, ice pick, and compass.
The tools are marked DUROL THIERS BREVETE.