| | | |
| --- | --- | --- |
| | The Virtual Corkscrew Museum's Occasional Newspaper | |
---
---
Diamonds are Forever

Do you recognize this picture? It is from the 1971 James Bond film Diamonds are Forever. In the final scene of the film, Bond (played by Sean Connery) and Tiffany Case (played by Jill St. John) are offered a gourmet dinner. Mr. Wint (Bruce Glover) presents a bottle of wine to Bond and then prepares to open it. The threatening look above shows him ready to stab the cork with a Sparklets Corkmaster.

The "Weapon"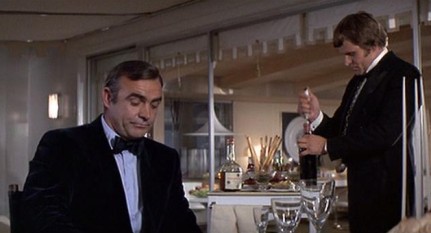 Stabbing the Cork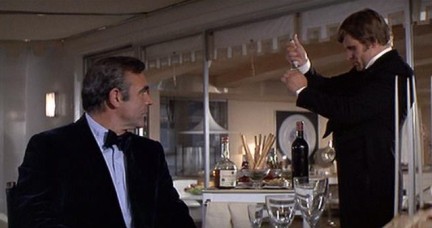 Removing the cork from the needle.
---

Rare ANRI for sale

Arkansas - Philly Rains who co-authored Anri Woodcarvings with Don Bull is downsizing her collection. She is currently offering two rare lamps on ebay (seller name: Phillybelle).

Philly presents this description of the carving on the left:

Here is the history of this fabulous carving. In the early 1920s six lighting fixtures were commissioned for a new Philadelphia pub. The fixtures hung over booths in the bar until the building was torn down in the early 1960s. Four of the fixtures were purchased by one man and put into storage until the late 1980s. He then sold two of those four in Florida where they were again stored until I bought them in 1995.

This one features two happy gentlemen with beer steins, or mugs of beer, toasting each other. I've provided pictures of the front and back of the light so you can see the fabulous detail, and note that the 'scene' is complete from either side. This fixture is wired and ready to hang over your bar, or any other area of your home, or club house, just as it's hung in my home for the last 9 years.

The fixture is 17" tall, not counting the chain and ceiling mount, and 22" wide. The depth of the carving front to back is approximately 2-3" at the deepest. It uses 2 low watt bulbs since it was created for a cozy booth.

To bid on the lamps, click here. To visit Philly's website, go to http://www.anricarvings.com/
---
---