The Virtual Corkscrew Museum's Daily Newspaper
---
---
A Star is Born

The Hotel, Roanoke, Roanoke, Virginia - At the 30th Annual Meeting of the International Correspondence of Corkscrew Addicts, Dr. Wolfgang Handel was elected Right for a second term.

The other star is "The Roanoke Star". Roanoke is known as the "Star City of the South" and its Star, built in 1949, is now considered the "World's Largest Man-Made illuminated Star". The Star's steel structure is 100 feet high and the star itself is 88.5 feet. The star weighs 10,000 pounds and the structure is 60,000 pounds. It contains 2000 feet of neon tubing to illuminate it at night above the city. Visibility from the air is sixty miles.




---

Death of the Cork

Where Else But California - Reader Kenn Cameron has steered us to the Death of the Cork website where we learned:

Santa Cruz, CA, October 2002 - In October 2002, Bonny Doon Vineyard is celebrating the death of the cork in elaborate events in New York City and San Francisco. All-black food and all-black décor, in addition to "deceased" Bonny Doon wines as well as verticals of Le Cigare Volant and Old Telegram were the framework for the events; in New York British wine authority Jancis Robinson delivered the eulogy for the cork; in both cities Randall Grahm, Bonny Doon Vineyard founder/winemaker, also delivered a eulogy. The winery is sharing all of these details and photographs from the events at www.deathofthecork.com. The fanciful events were inspired by a chapter in J.K. Huysman's 1884 novel Against Nature.

Why? On July 15, 2002, Ca' del Solo released the largest U.S. bottling to date of a fine wine with a screwcap closure. "At 80,000 cases (of 2001 Big House White & 2001 Big House Red, approx. national retail, $9.95), this is definitively the biggest commitment on the part of a U.S. winery to the Stelvinä screwcap," says Vincent Rabanas, General Manager for the U.S. of Pechiney, the French manufacturer of the Stelvinä screwcap. It is estimated that as many as 10% of wines with cork closures are tainted to one degree or another. This was the impetus for Pechiney's development of an organoleptically inert closure that would allow wine to age gracefully.

Say farewell to corkscrews?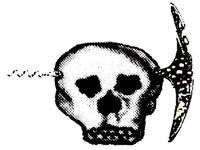 ---
Letter to the Editor

Help!

Here are photographs of my latest acquisition from Germany. The only marks are an M on one side and a J on the other. The body is cast aluminum.

Tools are a cap lifter, can opener, glass cutter and grooves to snap glass at scribe mark, knife sharpener, and corkscrew. Its dimensions are 5 inches long, 1 inch wide, and 1/4 inch thick. It shows a lot of wear and patina.

Does anyone have any information that would help me identify it?

Bob Roger, Virginia
---
---