William Rockwell Clough
Inventor and Manufacturer of over a Billion Corkscrews
©2002 Ron MacLean
Williamson & Walker
According to a 1912 publication by the Newark, New Jersey Board of Trade, the C.T. Williamson Wire Novelty Co. had by then manufactured and sold 400,000 corkscrews. In 1918 Williamson's took over the corkscrew operations of Walker's Erie Specialty Co. shortly after Edwin Walker's death on September 21, 1917. They also appear to have assumed the wire corkscrew market after Clough's business closed in the mid 1930's. Thus it is safe to assume that with another 60 years in the corkscrew business Williamson's must have hit the billion corkscrew mark along with Clough!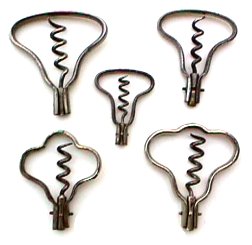 Above: Five nickel plated George Havel patent harps marked PAT. OCT. 16, 77. It is believed that Williamson's (1876-1982) were involved in manufacturing the G. Havell N.J. 1877 Patent as the company was a significant small metal manufacturer in America and conveniently located in Newark, N.J. as was Havell.
Continuing my digression, I must add that Williamson's produced a tremendous number of the October 16, 1877 Havell patent type forged web and wire helix harp/bow folding pocket corkscrews. They were made in various sizes and shapes, from after the patent expired, until well into the 20th century, and were still advertised in a 1946 Williamson catalogue. Williamson's eliminated the welded/brazed on sleeve over the helix shaft on his models, consequently it was much simpler and less expensive to manufacture than the original Havell patent. Types after Williamson's 1883 patent were also produced in quantity. As possible evidence that Clough & C.T. Williamson parted on good terms one of the two witnesses for the 1883 Williamson patent was Clough's attorney Charles Gill.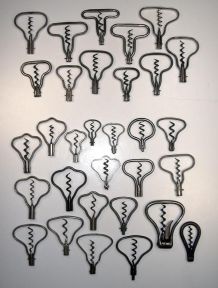 The above photo illustrates a great variety of folding harps fabricated/sold by the C.T. Williamson's Wire Novelty Company. This selection of 31 harps, features top center, the Williamson patent model marked PATENTED MARCH 27, 1883. The remaining 10 shown in the top portion are marked WILLIAMSON'S on the top or on the front of the frame. The 20 in the lower section are not marked but are also by Williamson's. Most of these items, acquired over the past 25 years, were found in Ontario, Canada where their use must have been fairly common. A pre W.W.I Williamson's catalogue illustrates harps/bows in 5 different sizes in various shapes in both forged web and wire helix models. In the above image the two forged German harps on the lower right are illustrated in the same catalogue, examples imported and marketed by Williamson's.
| | |
| --- | --- |
| | Three twisted wire corkscrews based on Clough's 1876 patent each with the handle wire marked WILLIAMSON'S |
Above left: Williamson's also manufactured their own wire 1875/1881 patent finger corkscrews, with and without advertising, and these were fabricated with a square cut off button and ground point. Later examples looked exactly like those manufactured by Clough with a scarf cut button and helix point.
Above right: An early 20th century example by Williamson's with the twisted wire shaft affixed with a short transverse pin advertising a New York grocer is marked " H. BLENDERMANN GROCER WINES & LIQUORS 827 7TH AVE. BET. 53RD & 54TH STS. TELEPHONE 503 COLUMBUS".
| | |
| --- | --- |
| An early 20th century Williamson's with a square cut off button and a ground point helix with the handle marked on both sides Williamson Co. - NEWARK, N.J. | |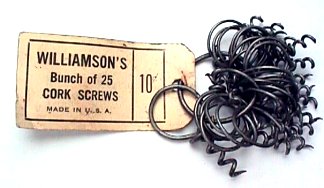 Twenty five different sized examples sold for only 10¢.
| | |
| --- | --- |
| Williamson may have acquired one or more of the Clough manufacturing machines. Typical Clough style wire medicine corkscrews, and 1881 patent advertising types, were still a part of the Williamson product line when the Eastern Tool & Manufacturing Company (ETAMCO), who acquired Williamson in 1946, was liquidated in 1982. Examples were found when acquired by Bob Nugent on a factory component display board. At the time of closure there were also barrels of wire corkscrews in stock. | |
| | | |
| --- | --- | --- |
| | Bob also acquired a very large collection of wooden corkscrew printing blocks, when ETAMCO closed. Several of these Williamson's blocks are pictured in a shadowbox surrounding a Clough 1900 patent corkscrew copper printing die. Bob also recovered printing blocks for the 1875 and 1876 Clough patent corkscrews. | |
| | |
| --- | --- |
| | A card of 8 Clough wire corkscrews for 10cents sold as Junior Cork Puller. At this relatively high price they were possibly manufactured by Williamson's after the Clough business was closed. |
| | |
| --- | --- |
| I should mention, that even the Erie Specialty Manufacturing Company (Edwin Walker) designed, and manufactured nickel plated steel wire helix corkscrews, one of which could be stamped and used for advertising. A Walker Display Card 207 illustrates Walker No 19 1/2 & 19 that were manufactured to compete with Clough & Williamson wire corkscrews, but were not in fact wire being fabricated instead from small tapered rods. | |
| | |
| --- | --- |
| Shown alongside 19 & 19 1/2 examples is a 6" long, all steel Walker, with loop handle marked on both sides "MADE FOR FRANCO'S WINES & LIQUORS" An advertisement for this style of Walker corkscrew in a 1907 Frothingham & Workman Limited, Montreal, Quebec catalogue was double the price a Clough 1900 patent pocket corkscrew. It is possible that these examples were only manufactured for a short time due to the high manufacturing cost and lack of sales. Edwin Walker also marketed 1900 Clough wooden case wire corkscrews with the case marked "WALKER". | |
| | |
| --- | --- |
| A Walker caplifter/corkscrew patent manufactured by Williamson's was expensive to manufacture and advertising examples were not produced in large quantity especially compared to the machine made 1900 Clough patent. Imprint is "R. Sullivan & Co. St. John, N.B. Agents for King George IV Scotch Whisky Oscar Heymann & Co., 220-230 West 19th St., N.Y." | |
---