William Rockwell Clough
Inventor and Manufacturer of over a Billion Corkscrews
©2002 Ron MacLean
Clough Corkscrew Inspirations
Clough leased his corkscrew manufacturing machines to firms in England, France, Germany and Italy. Many wire corkscrew examples from these countries, all based on Clough ideas were manufactured, although I am not aware of any Italian examples.
The following corkscrews, made in a variety of countries, are sometimes attributed as being made by Clough, but were simply inspired by the Clough designs that were introduced to the world.
England
English examples all with a ground point helix
| | |
| --- | --- |
| | |
| Handle marked RD NO 21189 (Registered Design January 25, 1885 by Berkeley & Co. Birmingham) with an asymmetrically positioned twin riveted shaft entries through the handle. | Handle marked THE NATIONAL RD 28303 (1885) with two entries into the handle forming a hanging ring |
| | |
| --- | --- |
| | A circa 1900 English Clough type corkscrew. It is one piece of twisted wire pinned in the centre of a wood handle. The wire wraps around itself to form the a strong shaft and loops to form a hanging ring on the top. |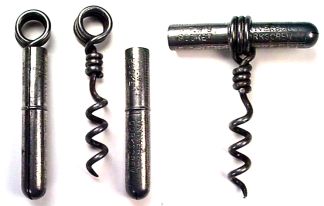 A small 2 3/4" long nickel plated steel triple turn sheath hole wire helix pocket corkscrew with ground point. The steel sheath has a locating ridge and is marked "C.T.W.'S (C.T. Willetts) POCKET UNIVERSAL CORKSCREW INCH (1/8, 1/16 inch line marks) METRE (cm line marks)". Sometimes erroneously attributed to Clough or C.T. Williamson
| | |
| --- | --- |
| | Wire T handle marked RD 50027 on a small handle end loop - British Registration No 50027, May 31, 1886 by W.T. Taylor Co. Ltd of Newhall Works, Birmingham. This corkscrew design made from a single piece of wire was registered by a English firm after the introduction of Clough wire corkscrews to Britain in 1878. The unmarked adjacent example has a slightly larger wire helix with one end of the wire wrapped around to form the shaft. This twisted wire handle design was never used in America and appears to be a unique English feature used with after the advent of the 1886 Taylor registration. |
| | |
| --- | --- |
| | A nickel plated steel twisted wire peg & worm. The pipe tamper peg is a wire coil wrapped around a straight wire pin and the worm a left hand helix with the peg hole and short shaft all made from one piece of wire. It was not by Clough but an example of English Registration No. 528,199 of July 27, 1908 by Frederick Sunderland, Lionel Street, Birmingham. |
| | |
| --- | --- |
| | |
| Unusual Clough type bright nickel plated steel wire, with a free rotating frame, possibly English, not manufactured by Clough. | A well made double wire hardwood handle loop, not marked, possibly English. |
| | |
| --- | --- |
| | |
| Two versions of Holborn finger hole Clough types made in England with different methods to affix the twisted wire shaft in the wood handle. | Two uncommon all twisted wire 2/3/4 finger eyebrow corkscrews. The one on the left made from two pieces of wire and the one on the right with only one. Both are believed to have been manufactured in England. |
| | |
| --- | --- |
| | |
| An unusual English wire corkscrew fabricated from two pieces of wire, with two prongs to engage the cork to impart a twist to assist in withdrawal. | Three English Clough & Williamson type twisted wire picnic corkscrews. Each has a triple ring sheath hole and closed end sheaths. The sheaths have a ridge partway along to centrally position the handle rings. The one on the left has a left hand helix with the sheath marked UNION LOCKS JOSIAH PARKES & SONS LTD WILLENHALL ENGLAND. The middle example, has a right hand helix and the smaller model on the right, also has a normal right hand helix but is not marked. |
| | |
| --- | --- |
| | An example with the right hand 'screw like' twisted wire shaft, simply screwed into the handle, again possibly English. |
| | |
| --- | --- |
| | |
| A Clough type copper plated corkscrew with two sets of finger holes also believed to be of British origin. | A similar two finger hole wire corkscrew on an English postcard stamped September 28, 1918, Luton, England. |
| | |
| --- | --- |
| | Another possibly English three finger hole example with a ground point helix made from a single piece of wire |
| | |
| --- | --- |
| | When Bob Nugent and I visited the New Hampshire Historical Society in Concord, N.H. on November 1, 1994, we saw a somewhat similar, but unusual wire corkscrew, among their Clough artifacts. We were both a little perplexed as it had a ground point helix with a square cut off button, both features not normally found on a Clough corkscrew. |
| | |
| --- | --- |
| | Probably English with a long pitch twisted wire shaft with a ground point helix. |
| | |
| --- | --- |
| | Berkeley & Co., Ltd. 288 Windsor Street, Birmingham illustrate in a mid 20th Century catalogue of their own manufactured items their Scent Corkscrew identical to the Clough 1875 patent. |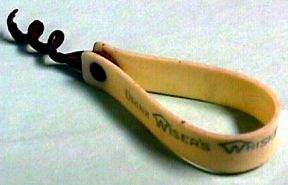 A most unusual Clough 1884 patent type with a flexible celluloid/plastic finger band, not steel as is normally found. This example marked DRINK WISER'S WHISKEY CANADAS RED LETTER WHISKEY is possibly of English manufacture as no Clough reference to this material used in a corkscrew has been found. I am aware of another with Scotch whiskey advertising also with a celluloid/plastic advertising finger band.
France
| | |
| --- | --- |
| In the recently published book Les Fabriques de Tire-Bouchons 1820-1970 by Gérard Bidault the following five groups are illustrated: | A very colourful selection of Clough 1900 patent type corkscrews by M. Collin 1915-1929 |
| Three corkscrews from a 1931 Arthur Franck Timson (C.T.B.) 1906-1987 catalogue. | A selection of Timson well made nickel plated steel Clough corkscrews, and finally |
| A cardboard box of Clough 1875 patent medicine types produced by C.T.B.(Compagnie du Tires-Bouchon). | An advertisement illustrating four types of Clough wire corkscrews manufactured and marketed by H.& L. Lamoureux 1915-1933. |
Even Jacques Pérille, Paris must have been influenced by the simple Clough wire medicine corkscrew with this wonderful twin wire helix example illustrated in a JP catalogue.

A typical French colourful turned wood handle, with the twisted shaft affixed with a short transverse handle pin, not marked.






A rather poorly fabricated Clough finger corkscrew based on his 1890/1900 patent, but with a square cut off button, definitely not made by a Clough machine. The wood sheath advertises a Swiss chocolate firm Suchard CACO CHOCOLAT GRAND PRIX PARIS 1900. Clough exhibited and won awards for his corkscrew manufacturing machine at the Paris Exposition of 1900. A wonderful 1900 patent corkscrew marked "Souvenir de L. Exposition, Paris 1900, Section Americaine, Salle Des Machines, Rockwell, Clough Co. Alton, New Hampshire, U.S.A. Machines, Automatiques, Brevetees, Breve! recently surfaced on Ebay.
Germany
| | |
| --- | --- |
| | Box of early 29th century bright nickel plated finger corkscrews based on the 1875 Clough patent, marked 1 Gross Cork Screws Iron Nickelled A Made in Germany |
| | From the Clough corkscrew manufacturing machines leased to Germany, two identical Clough 1900 patent type corkscrews each with nickel plated steel sheath marked BAVARIA. |
| | A two finger nickel plated wire corkscrew with the same distinctive steel German sheath as above. |
| | These types of corkscrews, sometimes erroneously attributed to Clough, were made in Germany or France. They are not made from wire but from traditionally forged and formed steel rod. |
| | Two possibly German examples are shown with clunky, poorly fabricated helixes. The first is rather unusual with a handle made from different grained pieces of wood glued together with a twisted shaft and button, the second which could also be French with a more typical handle affixed with a short pin crosswise through the handle. |
| | A 20th century German corkscrew influenced by Clough. It is simply a piece of twisted wire pinned in position off centre in a wood handle. The shaft is wrapped tightly with a lighter gauge wire to provide some improved rigidity and adds a decorative pattern to an otherwise stark corkscrew. |
Holland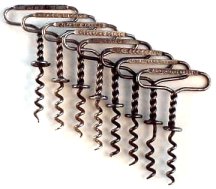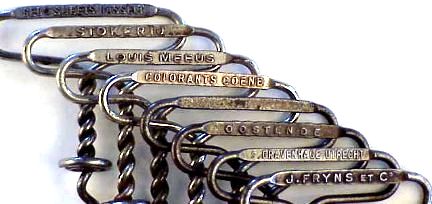 HOLLAND Corkscrews after Clough were also produced in Europe (probably in France) for Dutch advertising.
Poland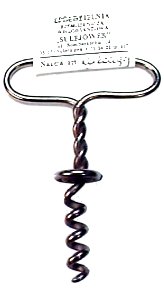 Even Poland manufactured their own Clough type wire corkscrews.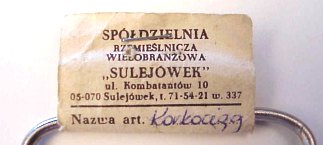 Sweden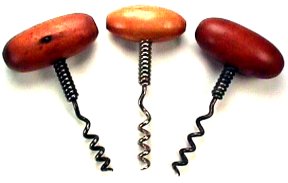 Three differently made Swedish examples of twisted wire one marked LARS with the handle affixed with a transverse pin, smaller handle affixed with a length wise pin marked PAT.S
Country Origin Unknown

Twisted wire tools not by Clough Three twisted wire screws (9 to 11 inches / 230 to 280 mm long) that were made as packing extractors to help remove gland packing on reciprocating/rotating machinery shafts. The lower example has a left hand helix. These are interesting items but definitely not manufactured by Clough.
---