William Rockwell Clough
Inventor and Manufacturer of over a Billion Corkscrews
©2002 Ron MacLean
Leonard Gray's Patent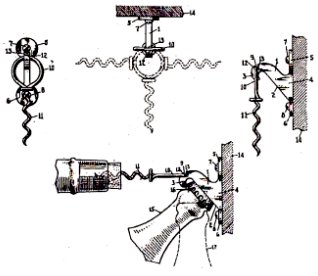 On February 24, 1927 Leonard Gray of Decatur, Illinois filed for a patent for his "Bottle Opener." In his discussion of wall mounted openers he says "Experience has shown that people, especially in hotel rooms, when they desire to open a bottle, make use of door jamps and furniture, thus causing considerable damage which it is impossible for the hotel proprietor to keep track of."

Although Gray's emphasis is on the bottle cap remover, he did include a "torsional extractor to pull corks from bottles." His combined tool would insure that guests would have no occasion to deface or damage woodwork and because caps and corks would be removed in the upright position, contents would not be spilled on the carpets or floor.

Gray's wall mounted tool held a Clough corkscrew in a slot over the crown cap lifter. Gray was granted U. S. Patent No. 1,746,393 on Feb. 11, 1930. The product was produced by the Walrus Mfg. Co. of Decatur.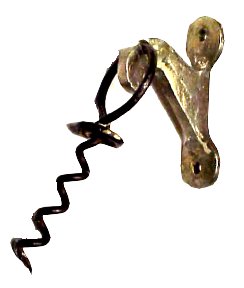 Gray's patent marked WALRUS MFG. CO. PATS. PEND.
Footnote: A message from Liz Quebe received May 28, 2003 -The Walrus Manufacturing Company was started by my great grandfather and famous corkscrew designer Leonard Gillete Gray. In the early years Walrus was famous for making soda fountains--the great old kind with marble counters and porcelain buttons with all of the flavors written on them (I still have some of those). Walrus made the "world's largest soda fountain" located in Texas. After the soda fountain rage passed, Walrus made hospital and school casework in both metal and wood. The company was subsequently run by my grandfather, father and uncle until it closed in the early 1970s. The factory building still exists as a warehouse. I don't know where you live, but if you are at all familiar with the Chicago Tribune you may recall its famous front page cartoon of yore called Injun Summer. That same artist designed the Walrus logo, a fat old fellow in a top hat and tails.
---