William Rockwell Clough
Inventor and Manufacturer of over a Billion Corkscrews
©2002 Ron MacLean
Other Clough Patents
W.R. Clough's patent efforts were not limited to corkscrews. The original Clough U.S. patent papers were seen at the New Hampshire Historical Society, Concord, New Hampshire. Clough patented 17 other items as follows ranging from bill files, sealing wax to nursery pins.
August 18, 1868 U.S. Patent No. 81,253 (left) Improvement in Paper Files somewhat similar to Burnet's Paper File Patent, while Clough was living in Cambridge, Massachusetts - (right) Clough's patent was apparently in conflict with Burnet's 1865 patent.
October 8, 1872, U.S. Patent No. 5088 a Reissue of Original Patent of January 10, 1865, U.S. Patent No. 45,813 by William Burnet, assignor through mesne (intermediate) assignment to W.R. Clough et al - Improvement in Paper File.
June 16, 1874, U.S. Patent No. 152,078 (left) example - Bill Files. This was for a spring loaded paper bill file with a movable hinged plate. This picture shows (right) a mahogany and nickel plated steel clamp clearly marked CLOUGH'S PATENT JUNE 16, 1874 for securing paper files. I was very pleased to acquire this on Ebay as a Mouse Trap!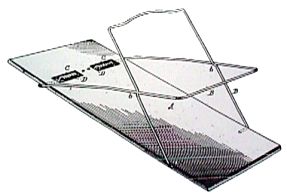 1875 February 16 U.S. Patent No. 159,796 - Bill File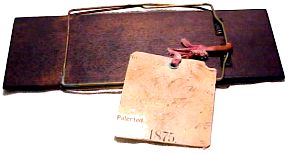 Above: Actual patent example submitted with the patent application with a tag marked W.R. Clough Bill File Patented February 6th 1975
February 16, 1875, U.S. Patent No. 159,796 - Bill File for a simple spring loaded paper bill file platform.

January 18, 1876, U.S. Patent No. 172,391 (Patent Applied filed June 14, 1875) - Manufacture of Sealing Wax for a method of mixing normal wax with poorer, less expensive materials to provide a lower cost stick sealing wax.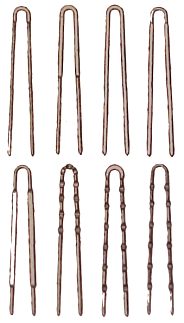 September 20, 1876, U.S. Patent No. 182,559 (Patent Application filed June 8, 1876) - Hair Pin, for a simple bent wire hair pin with flattened sides similar to those in use today.

July 20, 1880, U.S. Patent No. 230,240 - Wire Nursery Pin - again similar to those in use today with a twisted wire back frame.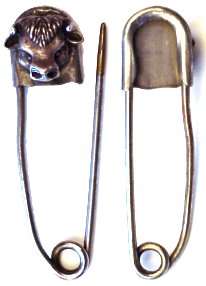 A bull head protects the point on this example of Patent 230,240.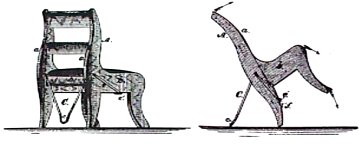 November 16, 1880, U.S. Patent No. 234,537 - Chair with Wire Support, a wooden chair with a locking/pivoting rod attachment that allowed the chair to tilt backward preventing it from tipping over.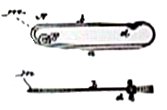 November 30, 1880, U.S. Patent No. 234,962 - Wire Nursery Pin with a very plain shape.
December 14, 1880, U.S. Patent No. 235,515 Spiral Wire Hooks and Tacks. Clough began manufacture of his spiral wire headed tacks in his plant at New Jersey Railroad Avenue & Hamilton Street, Newark, New Jersey. Clough sold the rights to this patent to C.T. Williamson who published a "SUPPLEMENTARY CATALOGUE AND PRICE LIST" on September 1, 1883 containing a full description and illustrations of Clough's Patented spiral hooks, nails tacks etc. A selection of these spiral tacks are at the New Hampshire Historical Society in Concord. In addition Clough Manufacturing Co. published on July 1, 1882 a Catalogue & Price list of Spiral Hooks, Nails & Tacks including the December 14, 1880 Spiral Tack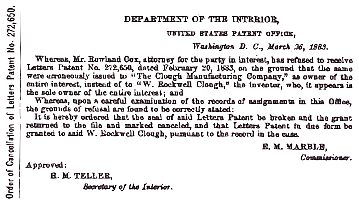 February 20, 1883, U.S. Patent No. 272,650 - Binder or Holding Device - PATENT CANCELLED.
On June 24, 1882 Clough filed duplicate patent applications for his "Binder and Holding Device". The first was in his name as assignor to the Clough Manufacturing Company of New Jersey. The second was in his name and not assigned.

The document attached to the second patent states that the application was "refused...on the ground that the same were erroneously issued to 'The Clough Manufacturing Company' as owner of the entire interest...instead....the inventor...appears as the sole owner of the entire interest.





July 4, 1882 Bill File Patent 3"x 8.5" thin mahogany board with a brass wire paper clamp - paper label on the back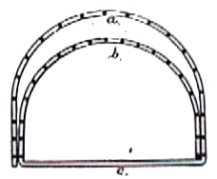 April 17, 1883, U.S. Patent No. 276,001 - Binder or Holding Device for a selection of bent wire shaped to position paper files.
June 20, 1883, Petition for Hooks & Analogous Articles - this was a selection of cast metal hooks fitted with screw attachments for mounting. No patent was granted.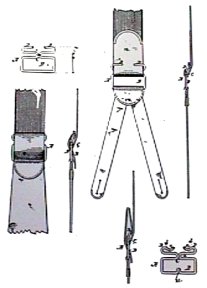 October 9, 1883, U.S. Patent No. 286,264 - Wire Buckle for a bent wire adjustable suspender buckle.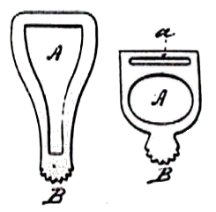 November 6, 1883, U.S. Patent No. 288,161 for a Hose Supporter or Garter.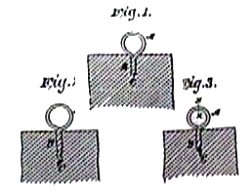 May 24, 1887, U.S. Patent No. 363,597 - Wire Screws, a wood screw made from a twisted piece of sharpened wire in eye and hook shapes.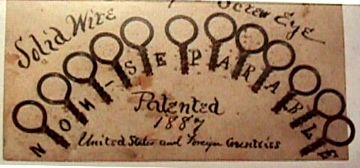 Card of examples of Patent No. 363,597.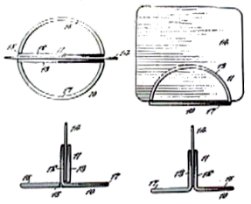 December 19, 1913, U.S. Patent No. 1,081,018 - Easel Or Holder For Photographs, Cards, Price Tickets And The Like made from a continuous piece of bent wire to vertically position cards.
A newspaper article (from an unidentified newspaper clipping, date unknown) indicated that at some point a New York firm of Patent Attorneys along with an expert draftsman and auto specialist visited Clough to sum up work in his laboratory on experiments on several years of work in the perfection of a new automobile tire. Patents were to be taken and it was expected the new tire would run 25,000 miles without blow-outs or replacement. No evidence of a patent application has been found.
---