William Rockwell Clough
Inventor and Manufacturer of over a Billion Corkscrews
©2002 Ron MacLean
Exhibition Participation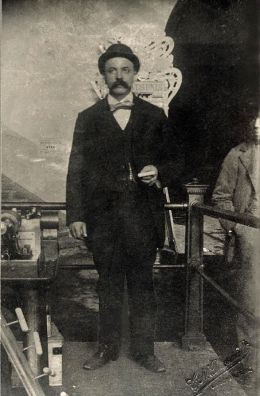 Taken at the 1900 Paris International Exhibition, this exceptional sepia photograph, shows an austere, but dapper William Rockwell Clough standing on a raised platform in the United States Pavilion. The white scrollwork sign behind Clough reads 'ETATS UNIS' (United States) and to the left is a small sign entitled 'AVIS' (Notice). The photograph was taken sometime between April 15 and November 12, 1900. This stunning picture shows the intrepid inventor standing beside his October 16, 1900 Patent 'Machine for Making Corkscrews'. He is shown holding a corkscrew and on the corkscrew display board, three scarf cut double helix examples are clearly depicted, a model shown in the 1900 Clough patent illustrations.
The image, stamped C.N. Denault, Laconia, N. H., was printed from a photographic plate taken back to New Hampshire by W.R. Clough after his trip to Europe.
This original cardboard mounted sepia image was recently found in the Boston area by Kenn Cameron, an avid and astute collector of corkscrew ephemera and long-standing member of the Canadian Corkscrew Collectors Club.
| | |
| --- | --- |
| | To the left are two examples of the double helix corkscrews pictured as in the Clough Paris Exhibition photograph. Left marked on each side BUCHANAN'S SCOTCH WHISKY. Other marked Quabaug PURE SPRING WATER NORTH BROOKFIELD MASS. U.S.A. Clough's Patent OCT. 16, 1900 |

Clough was a prodigious exhibitor of his inventions and was awarded many accolades. When Winston Stone invited Bob and I to visit the Alton, New Hampshire Historical Society on November 2, 1993, we saw some of the medals awarded to Clough as well as numerous corkscrews.
Bob had reviewed and previously provided input on Clough, for a recently published article Winston Stone was writing on Alton. They had never met until that day.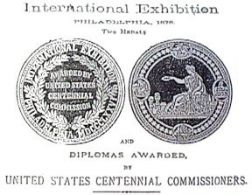 1876 Centennial Exhibition, Philadelphia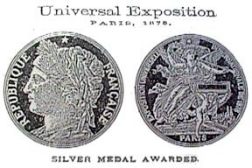 1878 Paris Exposition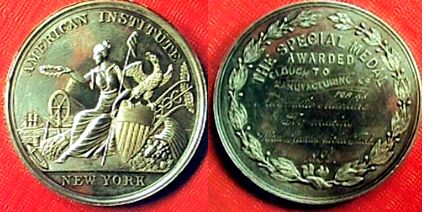 1882 American Institute, New York Wire Hooks & Tacks from 1880 Patent
1889 Paris Exposition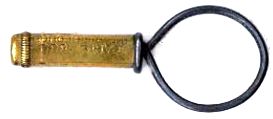 Single finger Clough after his 1878 French "Fabrication des Tire-Bouchons" (Corkscrew Machine) patent - brass sheath marked PARIS 1889 Bte S.G.D.G CLOUGH

1893 Columbia Exposition, Chicago Award Hail Columbia Souvenir Corkscrew
1894 Antwerp Exhibition

1894 Nantasket Beach (Massachusetts)

1894 Midwinter Fair (49 California 94)

1895 Atlanta Cotton States & International Exposition, Atlanta
1899 Paris Exposition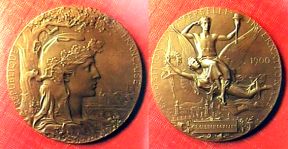 1900 Paris International Exposition

1904 St. Louis Exposition
---