William Rockwell Clough
Inventor and Manufacturer of over a Billion Corkscrews
©2002 Ron MacLean
The New Hampshire Years
1890-1920
In 1890, Clough returned to the home farm in Alton to look after his mother. Here he decided to build what he called a " branch house" for the business. This building is still visible in South Alton on Dudley Road. Subsequently he later moved the entire operation from New York to New Hampshire.
Through the years, Clough had kept improving the individually operated treadle powered corkscrew manufacturing machines that were first used in his shop in New Jersey, but it was a tedious affair. Cutting, sharpening and twisting the lengths of wire and supplying handles when required, was a time consuming business. An order for 11,000 gross prompted him to invent, develop and establish labour saving machinery to fabricate corkscrews more efficiently.
The first Clough automatic corkscrew manufacturing machines were built at the W.D.Huse Manufacturing Company, in nearby Laconia, New Hampshire.
The cutting of the wire, the sharpening of the point, and the twisting of the handle and helix, were all now accomplished without the hands of an operator. Machines were regulated to turn out one corkscrew every two seconds. One man could watch as many as six to eight machines, which could each make a corkscrew every second, although it was found more advantageous to run trouble free at half that speed.
The Rockwell Clough Company was now capable of an output of many millions of corkscrews annually. Clough, who not only invented the device but also the machines that produced it, traveled extensively in Europe, promoting and leasing machines to France, England, Germany and Italy. In all these countries, and in many others, his rights were fully protected by patents and his businesses remained a monument to his mechanical genius and business acumen. Clough also exhibited at trade fairs at home and in Europe. At the Columbian Exposition in Chicago in 1893 he took the highest medal awarded. At the Cotton States Exposition at Atlanta in 1895, he was honoured by being chosen as president of an association composed of all the leading exhibitionists, some 1500 in number. In this position he "entertained foreign and state clubs and came in contact with many interesting and widely known people".
The Ellis Island website indicates that 58 year old William Rockwell Clough returned from Southampton, Southamptonshire, England on June 28, 1903 on the twin screw (double helix?) steamship St. Paul. In 1903 it was necessary to have more manufacturing space and the business was moved to Factory Street (now Gilman Road) in Alton Village where it continued in operation until the mid 1930's.
On April 28, 1904 Clough married his second wife Nellie Sophia Place, daughter of George Place, an Alton lumber dealer and businessman. They had one son William Rockwell Jr. born in 1908 while they were living in London, England. Clough Jr. would later graduate as an engineer and serve in the US Air Force retiring with the rank of Colonel.
As a businessman Clough was extremely successful. Besides his natural mechanical ability, he had an inquisitive mind and was always trying to make improvements. As an employer he was good to his employees. In securing workers he always was loyal to local people and to those he had long been associated with, giving preference to his friends and schoolmates in Alton. For example Edwin Stone, the machinist who assisted Clough in building his first corkscrew machine, continued to work for Clough for many years and died in his service. One superintendent Fred E. Davis, a machinist, Frank O.M. Tibbitts, together with Mr. Tibbitts assistant, Franklin Collins, were all old neighbors and schoolmates of Clough in his younger years.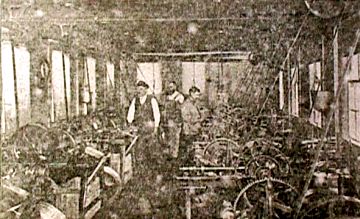 A picture of the inside of the Clough Corkscrew Company workshop from a 1909 edition of The Granite Monthly, with W.R. Clough Sr. in the middle of the scene. If you look closely you can see the washtubs used to catch the freshly made corkscrews and the belts of the overhead line shafts used to drive the corkscrew manufacturing machines.
The Alton, New Hampshire plant alone produced an annual output of 30 million corkscrews in 1909 and 43 million (300,000 gross) in 1917. A Boston Globe, September 29. 1931 newspaper article quoted Frank Collins, a 38 year Clough employee, stating that over a billion (1,000,000,000) corkscrews were produced at the Alton plant during his tenure. This is a completely plausible statement, with the peak annual capacity of the plant of 61,250,000 right hand corkscrews given in another newspaper. The small wire corkscrews, often produced at a rate of 60/min by one machine, were handled by the weight, often shipped in bulk but they were also counted and shipped in cardboard boxes.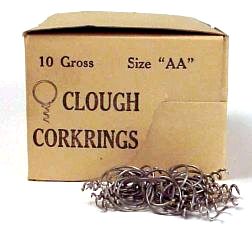 The major supplier of suitable wire for the corkscrew manufacturing machine operation was The American Wire & Steel Co., Worcester, Massachusetts. Their salesman Ed Carr of 6 Catalpa Street, Worcester was a frequent visitor to the corkscrew factory in Alton!
Clough had wooden sheaths or cases made in the Alton area for several types of corkscrews, made with the 1890/1900 patent machines. A newspaper article indicates that at some point Clough added a little pencil printing press, which was converted to imprint corkscrew business stamps on sheaths. He marketed his smaller finger corkscrews by the gross or by the pound. Wood cases were made and printed in the Alton factory, but were also possibly printed by other companies in North America as company names are sometimes marked on an advertising sheath or case.
W.R. Clough was a firm believer in the principle that with the advent of improved machinery the workers day should be shortened as much as possible. He voluntarily reduced the hours of labour in the factory from 10 hours a day to 9 hours and later to 8. He always gave his employees Saturday afternoon off during the summer for recreational activities.

He introduced profit sharing and gave each employee a check or bonus at the end of the year. He also, on at least one occasion, at the Hotel Touraine in Boston on January I, 1912, gave a complimentary New Year Dinner to the Employees of the Rockwell Clough Co. where they were to "Eat, Drink and Be Merry".
| | |
| --- | --- |
| An original menu card from the banquet which included Grape Fruit Decoreé , Crab Meat en Coquille Mornay, Tournedos de Boeuf a la Touraine, Glace Fantasie and Cafe Noir as well as Wine, Cocktails and Champagne would be a wonderful feast even today! | |

An appropriate slogan for a corkscrew.

Vaughan's Nifty (see below) adopting the same slogan.
By the mid 1910's, and particularly following World War One, the corkscrew business had fallen off, to the point where most of the production was supplying wire helixes to can opener and other corkscrew manufacturers in competition with the C.T. Williamson Wire Novelty Manufacturing Co. The Vaughan Novelty Manufacturing Co., Chicago, who fabricated can openers, bottle openers and the Nifty and the marked" Dainty Folding Cork Screw" (above left) was one such company. The manufacturing of Nifty wire helixes (above right) on a similar Clough mandrel (below left) required tight specifications as the helix point was required to be an exact length and oriented in the correct manner to the mounting hole. But mistakes were made as can be seen in this (below right) Nifty which has the helix point proud from the body and unable to rest/nestle in the opening in the body. The fold over of the helix shaft made by Clough or Williamson's is 180 degrees out causing the error when assembled.
| | |
| --- | --- |
| | Have you ever wondered why there seem to be so many Nifty corkscrews found in North America? The reason, a 1954 Canadian wholesale catalogue of Caverhill, Learmont & Co. Limited indicates, that more than 38 million (38,000,000) had been sold. The advertisement illustrates a point of sale card with a dozen that sold for $1.30. |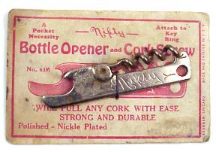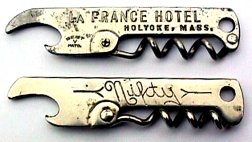 A rare patent Nifty U.S. Patent No. 1,207,100 December 5, 1916 Granted to Harry L. Vaughan, Chicago, Illinois

is fitted with a Clough manufactured scarf cut helix with the shaft affixed to the body with a single head steel rivet. A dimple or depression is used to locate the helix tip. This example is exactly like the patent illustration with a light body stamping, smaller gauge wire helix and curved cap lifter shape. This shape is distinctively different in both appearance and weight when compared to a commonly found Nifty example as shown below.
It appears that with the almost complete absence of printed catalogues, Clough did little advertising except various illustrated price lists, trade cards and advertisements in pharmaceutical publications.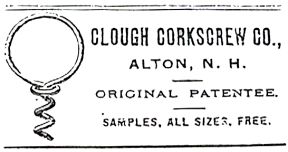 An advertisement for the Clough Corkscrew Co. was in the January 3, 1895 edition of Pharmaceutical Era. He believed in his own products and used them for company advertising. Several examples of Clough Patent advertising corkscrews have been found and still turn up occasionally. An exceptional example is a point of sale giant copy of Clough's 1875 patent, which measure 11 1/2".
| | |
| --- | --- |
| One advertising card entitled THE LAWN PARTY shows a smartly attired young lady illustrating a finger corkscrew in an advertisement for Clough's Patent corkscrew. | |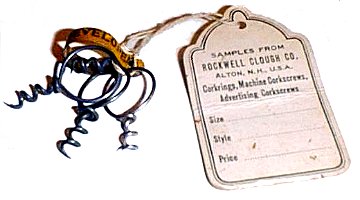 Of course Clough advertising also appears on his green corporate stationary letterhead, a shipping label, an envelope, and a memo pad letterhead of the Rockwell Clough Co., Wire Screws and Staples, Alton, New Hampshire.
When Bob Nugent and I visited the New Hampshire Historical Society in Concord, N.H. in the fall of 1994, besides seeing an unusual wire corkscrew among their Clough artifacts, we were thrilled to see a piece of original Clough advertising, used in the 1893 Columbian Exposition in Chicago. This item, a very large 48" by 12" framed mirror 54" by 18" overall illustrated his pocket corkscrew with the mirror marked CLOUGH'S SOUVENIR POCKET CORKSCREW STEEL WIRE NICKEL SHIELD MADE AND FOR SALE HERE 5¢ HAIL COLUMBIA CHICAGO 1893.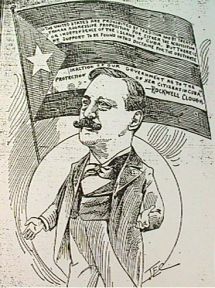 In spite of Clough's extensive travels in Europe and the many responsibilities of his business interests, he served locally for a short time on the Board of Education and also as Justice of the Police Court. A staunch Republican he took the time to run for, and to become, a member of the State Legislature in 1897, 1899 and again in 1917. In each term he chaired a Standing Committee on National Affairs.
The wooden case below is marked "SOUVENIR 1897 'WHILE I WAS IN THE LEGISLATURE' COMPLIMENTS OF ROCKWELL CLOUGH CO. MANUFACTURERS OF WIRE SCREWS AND STAPLES ALTON, N.H. U.S.A. CLOUGH'S PATENT" A political cartoon depicting Clough states "REPRESENTATIVE ROCKWELL CLOUGH OF ALTON, Whose Voice on the Floor of the House Always Commands Attention"

| | |
| --- | --- |
| | A small 5" long advertising pencil made similar to a real broom, is marked "MAKE A CLEAN SWEEP FOR WILLIAM ROCKWELL CLOUGH and the REPUBLICAN PARTY" on the pencil or broom handle. |
The only professional organization he was associated with was the American Society of Mechanical Engineers which he joined on December 6, 1899. He was a Mason of the 32nd Degree, Past Master of his lodge, Knight Templar, Shriner and Past Patron of the Order of the Eastern Star. He was also a member of the Home Market Club and the Algonquin Club in Boston.
After two years of failing health, William Rockwell Clough died on September 29th 1920 at the age of 76. But that was not the end of the Clough Manufacturing Company.
1890 November 25 U.S. Patent No. 441,137 - Corkscrew Machine

1892 May 3 U.S. Patent No. 474,055 - Advertising Corkscrew

1899 February 21 U.S. Design Patent No. D-30,234 - Handle

1900 October 16 U.S. Patent No. 659,649, Applied for March 5, 1900 - "Machine for Making Corkscrews"

1902 February 25 Canadian Patent No. 74,941, Applied for August 21, 1901 - "Machine for Making Cork Screws"

1904 December 27 U.S. Patent No. 778,593, Applied for April 6, 1904 - "Closure for Bottles or the Like" granted to Alexander Maconnell

1920 May 4 U.S. Patent No. 1,339,164, Applied for June 28, 1918 - "Pocket Implement" Wire Helixes for Pocket Knives Granted to Clough for a Pocket Implement (Knife with wire corkscrew).
---