William Rockwell Clough
Inventor and Manufacturer of over a Billion Corkscrews
©2002 Ron MacLean
Post Williamson
1882-1890
Following the dissolution of the Clough/Williamson partnership W.R. Clough reformed the Clough Manufacturing Co. in New York State. It was later incorporated on June 10, 1882 in New Jersey by W.R. Clough and William and Robert Crabb to operate in both Newark and New York City. On July 1, 1882 the Clough Manufacturing Co. was operating from RR Avenue & Hamilton Street, Newark, New Jersey.
Although no reference material shows where the New York factory was located, it may have been at 132 Nassau Street, where the J.M. Maconnell plant was located. An advertisement in the June 23, 1898 periodical The Pharmaceutical Era, indicates J.M. Maconnell was the sole manufacturer of Clough's 1884 patent folding band corkscrew.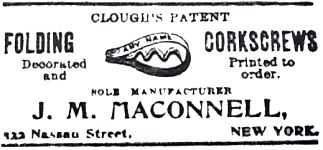 It was while located at the above venues that Clough began to supply the great proprietary medicine houses in the country with corkscrews.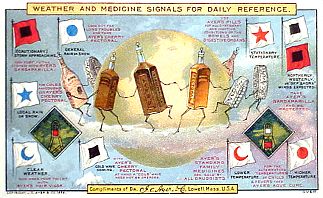 Although this was a period of great growth and fame for Clough the innovator, his corkscrew manufacturing machine was exhibited in the Paris Exhibition of 1889, it was also a time of profound sadness following the death of his first wife Amelia in 1885 and the death of his father John Chesley Clough in 1890.
1882 July 4 1882, U.S. Patent No. 260537Wire Bill File

1883 April 17 U.S. Patent No. 276,001 Binder Device






July 4, 1882 Bill File Patent 3"x 8.5" thin mahogany board with a brass wire paper clamp - paper label on the back

On June 24, 1882 Clough filed duplicate patent applications for his "Binder and Holding Device". The first was in his name as assignor to the Clough Manufacturing Company of New Jersey. The second was in his name and not assigned.

The document attached to the second patent states that the application was "refused...on the ground that the same were erroneously issued to 'The Clough Manufacturing Company' as owner of the entire interest...instead....the inventor...appears as the sole owner of the entire interest.

1883 October 9 U.S. Patent No. 286,264 Wire Buckle

1883 November 6 U.S. Patent No. 288,161 Hose Supporter

1884 July 22 U.S. Patent No. 302,321 Metal Band Corkscrew

1884 July 23 British Patent No. 10,504 Metal Band Corkscrew

1884 September 2 U.S. Patent No. 304,299 by William Crabb, Applied for July 5, 1884 - Corkscrew (Wire Corkscrew)

1885 December 15 U.S. Patent No. 332,382 Capsule Cork Remover

1886 March 2 U.S. Patent No. 337,309 William Crabb Scarf Cut Point

1887 May 24 U.S. Patent No. 363,597 Wire Screws
| | |
| --- | --- |
| | Small 2 11/16"/6.8cm single ring with brass sheath marked CLOUGH'S PATENT 337309 with advertising "Ask your grocer for Red Star Amonia, 26 India Square, Boston. |
---