William Rockwell Clough
Inventor and Manufacturer of over a Billion Corkscrews
©2002 Ron MacLean
Clough & Williamson Partnership
1877-1882
On June 1st, 1877 one of the most significant partnerships in corkscrew manufacturing was formed, with an agreement signed between W.R. Clough and C.T. Williamson. The new company Clough & Williamson was formed in Newark, New Jersey to manufacture corkscrews derived from the Clough 1875 & 1876 patents. Unfortunately on May 3, 1875, Clough had sold the rights to market these corkscrew patents to a Robert Hutchinson. Thus Clough and Williamson were forced to negotiate an agreement on June 1, 1877 with Hutchinson, who then obtained exclusive rights for a period of five years to sell corkscrews manufactured from the 1875 & 1876 patents. In addition to the corkscrews sold in Britain, if Clough & Williamson wanted to sell to others, Hutchinson claimed a royalty or 10% commission. The selling price at the time was 5 cents per gross.
| | |
| --- | --- |
| 1877 September 15 German Patent No. 977 - Combination of 1875 and 1876 Patents | 1878 October 2 British Patent No. 3868 - Corkscrew Machine |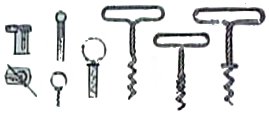 1878 November 25 French Patent No. 126,098 - Corkscrew Machine
---
A Clough corkscrew machine was awarded a medal at the Centennial Celebration in Philadelphia in 1876 and a Clough & Williamson Wire Machine was awarded a medal at the Paris Exposition in 1878. The London Times commented upon this extraordinary machine as follows: "It catches a straight piece of steel wire and throws it out a corkscrew of such temper that it may be driven through an inch deal plank and not yield a hair's breath. The deftest waiter will take as long to pull a cork as this machine to make a half dozen corkscrews of this Exceptionally Good Quality"
A Newark, New Jersey city directory lists the partnership of Clough & Williamson in 1880/1881, but sometime early in 1882, the joint venture ended. According to Clough's son William Rockwell Jr., the parting was amicable with the accounts divided equally. C.T. Williamson acquired the right to manufacture and market the 1875 and 1876 W.R. Clough corkscrew patents. He continued to produce similar examples under these Clough patents, as illustrated in the Williamson catalogue of 1883, until well into the early 20th century.
1880 July 20 U.S. Patent No. 230,240 - Nursery Pin

1880 November 30 U.S. Patent No. 234,962 - Nursery Pin

1880 November 16 U.S. Patent No. 234,537 - Chair Support

1880 December 14 U.S. Patent No. 235,515 - Spiral Hooks/Tacks

1881 June 7 U.S. Patent No. 242,602 - Wire Corkscrew
---