William Rockwell Clough
Inventor and Manufacturer of over a Billion Corkscrews
©2002 Ron MacLean
The Early Years
1844-1877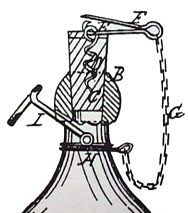 1867 July 30 U.S. Patent No. 67,346, Stopper Fastener to C. Porter reissued to W.R. Clough in 1876
A comprehensive article on the life of William Rockwell Clough, was included in the July 1909 edition of The Granite Monthly, in a series of articles featuring New Hampshire industries and their builders. In it we learn that the Clough family of America was descended from Richard Clough of Wales, a family with impressive credentials in the United Kingdom. Closer to home, A History of New Hampshire, published in 1927, tells us that shortly after the American Revolutionary period, three brothers, Isaac, Daniel and Samuel Clough, bought and cleared farms in the Clough Neighborhood and the Clough-town portion of Alton. These brothers became leaders in local matters. Daniel Clough was the grandfather of William Rockwell Clough. John Chesley Clough, the son of Daniel Clough, was a man of widely recognized industrial and civic attainments. He was farsighted and inventive, as well as frugal, and it was from him that his son, William, inherited his mechanical genius.
William Rockwell Clough was born in Manchester, New Hampshire on November 8, 1844. His parents John Chesley and Lydia Jane (Teddick) Clough happened to be in Manchester at that time, but their home was really the family farm in Alton, New Hampshire, where young William and his brother Oscar were raised.
He was educated in the public schools of Alton and later attended the Franklin Academy in Dover, New Hampshire. Initially he worked on the family farm, but in the summer of 1861, the call of duty sounded.
Volunteer's Farewell

Ye mountains and glens, I now address you
Ye hills and rivers, most glorious band,
Before I go to help, God bless you,
Wipe the traitors from our Glorious land

It is with sad regret I leave then,
But it is for you I go
Over Southern hills, believe me
To help subdue a southern foe.

Our country has long dwelt in peace,
Freedom gained by our brave sires.
How shall our countrys' freedom cease
For want of patriot fires?

No, hills, mountains, rivers and glens never
Shall sweet freedom from you flee
This shall be a land forever
Of sweet glorious liberty.

Ah, `tis you my country that calls me
To protect you from the foe
And I will, if naught befalls me.
Now farewell, for I must go.

This poem, originally written in the summer of 1861 at 16 years of age, was recounted and handwritten by Clough himself, while at the Clough factory in Alton on a piece of Clough & Maconnell, New York stationery (with New York crossed out and replaced by Alton) on April 14, 1893.
A year later at the age of 17, Clough left the farm, seeking wider fields, and journeyed to Boston. He arrived in time to volunteer for duty in the American Civil War (1861-1865), and enlisted on August 18, 1862 as a Private, Co. `G' 50th, Massachusetts Regiment. It was with this unit that he engaged in the battles that opened up the Mississippi River from New Orleans to Vicksburg. At the end of the war Clough was mustered out as Lieutenant W. R. Clough. Clough kept up his connections with the military. He maintained his ties with his old regimental unit, becoming President in 1909 of the Fiftieth Massachusetts Regimental Association and of the Fourth Battery Association, an organization made up of his former comrades at the front. While in New York City he became a Charter Member of Winfield Scott Hancock Post, Grand Army of the Republic. He also joined the Ninth Regiment of Infantry in the National State Guard in New York entering as a lieutenant in 1882 and elected to captain in 1885. Clough is pictured in the program for the Full Dress Reception of the Ninth Regiment held on Tuesday evening, September 14, 1886. He was also a member of the Ancient and Honorable Artillery Company of Boston.
Returning from Civil War Service in 1865, Clough enrolled in the Eastman Business College in Poughkeepsie, New York, from which he graduated as an accountant although he preferred to be referred to as "one who dealt with figures". From there he returned to Boston, where he worked in private firms before joining and serving as an expert accountant for two years in the United States Bureau of Internal Revenue service.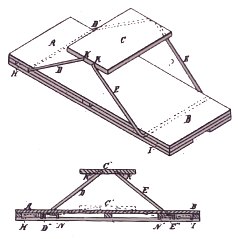 1868 August 18 U.S. Patent No. 81,253 - Paper Files
| | |
| --- | --- |
| 1874 June 16 U.S. Patent No. 152,078 - Bill Files | 1875 February 16 U.S. Patent No. 159,796 - Bill File |
| | Above: Actual patent example submitted with the patent application with a tag marked W.R. Clough Bill File Patented February 6th 1975 |
However soon his mechanical leaning led him into other fields. For several years he had been working on various mechanical devices designed to make easier the everyday "burdens of existence" securing several patents for articles made primarily of wire.

Reportedly Clough often sold his earlier inventions to others who manufactured them. Several times numerous references mention that he invented the common everyday paper clip. His son (William Clough Jr.) felt that it was dealing with groups of papers that led his father to invent the "Gem" paper clip, which he believes was later sold to get money to "push the corkscrew!" However no record has been found to validate this idea. Perhaps this was one of Clough's inventions or ideas which was sold before a patent was obtained.

In 1870 Clough moved to New York where he met his first wife Amelia Young, of Brooklyn, New York, whom he married on May 18, 1874. They had one daughter, Gertrude, who married Frank Duggan, a manufacturer in Norwalk, Connecticut.

The 1874/75 Brooklyn Directory lists W.R. Clough's business as Stationary, living at 16, 5th Avenue, Brooklyn. In 1875 The Rockwell Clough Company was established in Newark, New Jersey. The Newark, New Jersey Directory of 1875, also lists W.R. Clough's occupation as Stationary. But his most significant inventions were about to take center stage in his life.
| | |
| --- | --- |
| 1875 April 6 U.S. Patent No. 161,755 - Medicine Corkscrew | 1875 May 3 British Patent No. 1640 - Medicine Corkscrew |
____________

____________
In the mid 19th century, small medicine and perfume bottles were normally stoppered with a tapered cork. Usually the cork, after insertion, extended above the bottle neck top and did not initially require a corkscrew for removal. It was generally removed by wiggling and twisting the protruding cork end and pulling. With continued use, often the bottle contents adhered to the neck of the bottle, and the cork became glued to the inside neck. At that point one wiggled the top and sometimes tried to prise out the cork, which eventually created a flush cork which required the use of a tool for proper removal. This caused a great deal of frustration and resulted in a profusion of bent fork tines, snapped sewing bodkins, broken knife blade points and spoiled contents.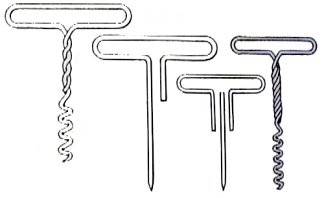 1876 February 1 U.S. Patent No. 172,868 - Wire Corkscrew
At the time only rather expensive perfume corkscrews were available to remove these small tapered corks. The business of making corkscrews began, according to Clough's second wife Nell, after he cut his fingers opening a "bottle of something or other". As the story goes, Clough couldn't see any reason why a man should mutilate himself to get to the contents of a bottle! A proper corkscrew was the answer of course and W.R. Clough was the man to find the solution. His resulting inventions earned him a fortune and a virtual wire corkscrew monopoly for many years to come.
An early biographical review (published in 1896) states that the idea of mass corkscrew manufacturing was conceived by Clough while still working for the U.S. Department of Internal Revenue! He reasoned that if wire screws could be manufactured in sufficient quantities and at a low enough cost to enable manufacturers of patent and standard medicines to supply a screw for every stopper sold, it would make a paying business and be of general utility. Screws could be manufactured at a very small expense if the proper machinery could be found and a market procured. So Clough devised the means to do it. Wire was firm, points were sharp and penetrating, cork was pliable. If a useful handle for turning was attached to a screw shaped length and inserted, any cork could be easily removed. The idea was simplicity itself!
| | |
| --- | --- |
| 1876 September 20 U.S. Patent No. 182,599 - Hair Pin | 1876 December 12 Reissue of U.S. Patent No. 67,346, July 30, 1867 "Corking Bottles" by Charles H. Porter, Albany, New York as No. 7,424 with name changed to "Bottle Stopper Fastener" was assigned to W.R. Clough, Applied for August 7, 1876 |
Having solved the mechanical side of the equation, Clough's next challenge was to convince patent medicine manufacturers that they should include a corkscrew with each bottle of medicine. Eventually he found a customer, Perry Davis & Son, of Providence, Rhode Island,who produced "Pain Killers & other Patent Medicines". Davis decided it was indeed a good idea and placed a large corkscrew order. In order to keep up with the demand Clough eventually needed to design a means for manufacturing corkscrews faster than currently possible by hand. In the end this resulted in a series of five corkscrew manufacturing machine patents over the next 25 years - two in the United States and one each in England, Canada and France.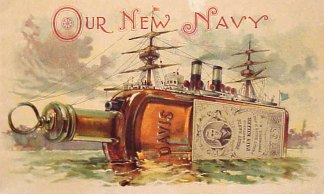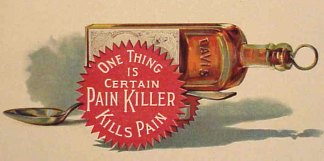 ---