William Rockwell Clough
Inventor and Manufacturer of over a Billion Corkscrews
©2002 Ron MacLean
Clough Related Corkscrew Patents
1890-1900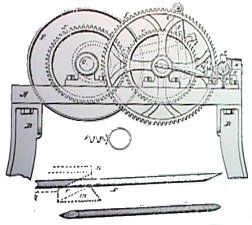 1890 November 25 U.S. Patent No. 441,137 - Applied for August 30, 1888 "Machine for Making Corkscrews" awarded to Clough for a Corkscrew Manufacturing Machine. This patent was substantially different from his earlier English and French patents, which required pre-cut sharpened pieces of wire to be placed in the machine. This patent covered a machine that was fed a continuous strand of wire from a reel which the machine pulled in, bevel shear scarf cut, twisted and fabricated a wire corkscrew. The scarf cut (Crabb Patent) provided both the point and a smooth wrapped end to the button over the helix if required. This 1890, patent contains six pages of illustrations and five pages of description and claims. Although Clough had designed and made all the machines used to produce his corkscrews none were previously patented in the U.S.
This patent machine manufactured finger corkscrews for patent medicines, which were often fitted with a metal sheath and given as souvenirs at expositions where Clough exhibited. This type of corkscrew was used for advertising and was sold around the world. The patent substantially lowered the manufacturing costs, which subsequently increased sales and profits.
Earlier Clough manufactured single finger double ring models, made with a lighter gauge wire than those commonly found from his later 1900 patent. They were often marked with the Crabb patent. Three early models all with a 7/16" diameter wooden sheath and lighter gauge wire.

1. CLOUGH WIRE CORKSCREW CO. ALTON, N.H. PATENTS 337,309 & 411,187 SOUVENIR ALTON CENTENNIAL 1796-JUNE 16-1896
2. THE ELMS Farmington, N.H. FRANK E. WHEELER PROPRIETOR CLOUGH'S PATENT 337,309
3. COMPLIMENTS LAKE Winnipiseogee House ALTON BAY, N.H. FRANK E. WHEELER PROP. CLOUGH'S PATENTS 337,309 & 411,187

Case marked SOUVENIR 1897 'WHILE I WAS IN THE LEGISLATURE' COMPLIMENTS OF ROCKWELL CLOUGH CO. MANUFACTURERS OF WIRE SCREWS AND STAPLES ALTON, N.H. U.S.A. CLOUGH'S PATENT
_______________
An example of the Clough corkscrew with advertisingon the sheath " Drink Davis Maryland Rye, Compliments of Davis & Drake, 57 & 59 Causeway St., Boston, Mass."

The accompanying corked bottle has the Davis & Drake label including the notation "Our Bottling has our name on cork, cap and label." The Whiskey is "Guaranteed under the National Pure Food and Drugs Act, June 30th, 1906."

Another matched set is this Glen Garry Whiskey jug with Glen Garry advertising corkscrew. The corkscrew sheath reads "Glen Garry Scotch Whisky, S. S. Pierce Co., Agents for U. S. A."

Note the corkscrew Trade Mark on the jug.
_______________
| | |
| --- | --- |
| | 1892 May 3 U.S. Patent No. 474,055 Applied for January 12, 1892 "Corkscrew" (Advertising Corkscrew) Granted to Clough for a Corkscrew for Advertising, with a sheet metal portion wrapped around the upper portion of the finger ring, to provide stiffness, prevent hurting the finger and to provide a conspicuous advertising surface for the bottles contents. |
| Although the July 1892 Clough & Maconnell price list, illustrates five sizes of this "Clough's Decorated Wire Corkscrew", ranging from 35 to 70 cents per gross it is not known if any examples of this patent have been found. | |
| The same 1892 Clough & Maconnell price list, illustrates a Clough medicine dial corkscrew at 100 for $1.00, and indicates that a patent had been applied for. These were made for a short time before the patent was denied as examples have been found. Bob Nugent found a number in 1977 and gave them all away as Christmas gifts to members of the ICCA. | |
| | The patent application illustrations show eight other variations of wire corkscrews which, to my knowledge, except for the clock face example, were never manufactured. |
_______________
| | |
| --- | --- |
| Clough exhibited and was given awards at the Columbia Exposition in Chicago in 1893 and was awarded a gold medal at the Cotton States & International Exposition in Atlanta, Georgia in 1895. The well known finger ring, nickel plated brass sheath "HAIL COLUMBIA" corkscrew, that was made and sold for 5 cents at the Columbian Exposition in Chicago in 1893 was marked "CLOUGH & MACONNELL NEW YORK". | |
| As Hail Columbia corkscrews were manufactured in significant quantity different dies were required to produce the brass sheath stampings. Examples have been found with three different spellings of Clough's Partner - Maconnell - Maconneil - Maconneli Possibly the stamping die printings were not properly proof read and a few examples were made and distributed before the error was noticed. Misspelled examples are indeed rare. | |
_______________

| | |
| --- | --- |
| | 1899 February 21 U.S. Design Patent No. D-30,234 Applied for January 25, 1899 - "Handle for Corkscrews" granted to Clough for a distinctive shaped wood handle for a corkscrew. This handle style may be found today - on the left with a single wire helix, fitted with a double Crabb cut wire helix in the centre and with the slightly more common twisted wire shaft and button on the right. |
_______________
| | |
| --- | --- |
| | 1900 October 16 U.S. Patent No. 659,649 Applied for March 5, 1900 - "Machine for Making Corkscrews" Clough was granted U.S. Patent No. 659,649 on October 16, 1900 for a Corkscrew Manufacturing Machine. This machine was horizontal wire reel fed, and could wrap the scarf cut wire around a suitable wooden handle, if required, with a twisted wire shaft or form a finger hole. An operator was needed to position the wooden handle in the apparatus and remove it after being wrapped with a wire corkscrew. It was also capable of making corkscrews formed with a wire looped handle. This technically comprehensive patent, contains seven pages of illustrations and five pages of description and claims. |
This is one of the actual machines that made these well known, and sometimes difficult to find, scarf cut helix Clough corkscrews.

The 1900 patent machine used reels of 12 gauge (1/8 inch diameter) steel wire as the raw material feed.




Left: Marked PAT. OCT. 16, 1900 W.J Sharman, Wholesale Wines & Liquors, 266 Portage Avenue, Winnipeg, Man.
Right: A double wire helix from single piece of wire with the handle marked BUCHANAN'S SCOTCH WHISKY




Left: BowTie wooden handle
Right: 1899 patent wood handle




Top: Common pocket type marked PAT. OCT. 16, 1900 COMPLIMENTS OF HAYNER DAYTON, OHIO/ST. LOUIS, MO./ST. PAUL, MINN./ATLANTA, GA. Hayner Distilling, Dayton Ohio(1866-1928) whose main product was American Rye Whiskey
Bottom: A short stubby picnic type marketed by Vaughan Novelty Manufacturing Company marked HENRI'S WINE HOUSE 530 MAIN STREET CINCINNATI, O. CHerry 8701




Two large picnic types where the wooden sheath goes through the hole in the long twisted wire shaft, these examples do not often surface.
A layman's description of the corkscrew manufacturing machine, recounted in a Worcester Telegram article published Sunday August 28, 1932 states "A coil of steel wire on a spool is threaded into a machine, somewhat as one would thread a sewing machine. This remarkable invention then cuts off pieces of wire, the proper length for the corkscrew. A whirling gadget seizes one end of the wire and twirls it into the proper spiral shape, pointed at the business end. Another gadget twirls the other end of the wire at the same time, forming a circular handle through which you my insert your finger to pull the cork. And a third gadget tosses the finished product into a bucket or zinc wash tub where the corkscrew is rather warm to the touch after the mauling by the machine. In the same time it takes to read this so called description the machine would spit out a couple of dozen corkscrews. The machines which turn out the little wire handled corkscrews produce 15,000 a day. The machines which fashion the heavier corkscrews used for beverage purposes have an output of 8,000 a day".
_______________
| | |
| --- | --- |
| | Clough also produced a simple wood cased wire corkscrew, with a left hand helix and a square cut off button, as a Crabb patent scarf cut was not used to form the helix tip. This model, was not made by his patent corkscrew manufacturing machine, but by hand and was intended by Clough as a joke. As a result they were not produced in significant quantity and seldom surface for the collector. |
Wooden sheaths for Clough wire corkscrews, became handles for various tools:
The Box illustrates the "ALL-WAYS" HANDY COMBINATION BOTTLE OPENER & CORKSCREW PAT. APRIL 30, 1901, OCT. 16, 1900. A combination crown cap lifter, aluminum stopper and Baltimore loop seal remover in original box illustrating all the functions. This example has a paper advertising label marked JUST A LITTLE BETTER than what YOU THOUGHT WAS BEST ALPETER'S Root Beer and Ginger Ale. Factory 217 Maple Street, Baraboo, Wisconsin. Telephone 230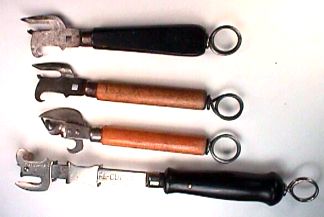 Many American can openers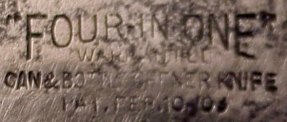 Knives marked "FOUR-IN-ONE WARRANTED CAN & BOTTLE OPENER KNIFE PAT. FEB.10,03" by F. White.

Ice picks.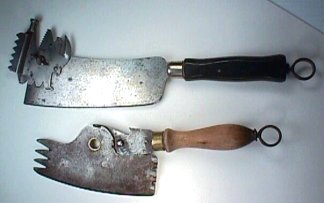 Cleavers.
| | |
| --- | --- |
| | Certainly among my favorites, is Bob Nugent's hammer (5 dot owners mark) given to Bob by a tool collecting friend many years ago when he learned that Bob had started to collect corkscrews. It has a 1900 Clough patent wire corkscrew in the handle end. It was a user tool and hung in Bob's upper corkscrew room and now hangs on a shelf in my lower corkscrew area. |
| | |
| --- | --- |
| | Another of my user favorites, is a 1900 patent belt buckle. In 1981 I had a nickel plated example fitted to a curved brushed stainless steel plate with a belt loop and hook attached. It works like a dream although over the years the leather belt appears to have shrunk a little! |
---