William Rockwell Clough
Inventor and Manufacturer of over a Billion Corkscrews
©2002 Ron MacLean
Clough Related Corkscrew Patents
1880-1889
| | |
| --- | --- |
| 1881 June 7 U.S. Patent No. 242,602, Applied for March 25, 1881 "Corkscrew" (Advertising Wire Corkscrew) granted to Clough, then living in Brooklyn, N.Y., for a wire medicine corkscrew with a flattened top surface which was a little less harsh to the finger than the 1875 patent. The most important claim was that it provided a space for promoting the bottle contents. Examples of these are often found advertising a wide range of patent medicines. In addition the interior of the finger loop on U.S. advertising examples may be found marked "MADE IN U.S.A.". | |
_______________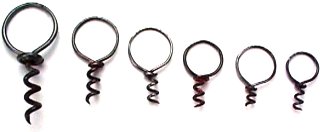 Unusually large example (2"/5.1cm long) of this patent, marked BOVININE, alongside five different smaller sizes, all marked LISTERINE. Four of them are also marked on the inside of the ring MADE IN U.S.A. This 1881 patent was not shared with Williamson. When they later separated, Clough was able to make corkscrews with the flattened top. The Brooklyn Directory of 1880/81 lists Clough & Williamson as partners with W.R. Clough, Inventor living at 575 Atlantic Avenue, Brooklyn. As evidence that Williamson's later acquired a Clough corkscrew manufacturing machine, 1881 Patent types were found on the Eastern Tool & Manufacturing Company (ETAMCO) Williamson's factory models & parts board when the company closed in 1982.
1882 September 12 U.S. Patent No. 264,391 "Combination Spoon and Folding Corkscrew". Although issued to C.T. Williamson, this design was possibly originally conceived by W.R. Clough. It was listed as a Clough Patent in a Clough Corkscrew & Capsule catalogue of March 1887, some five years after the dissolving of the Clough & Williamson partnership. Apparently neither company ever manufactured this particular patent in North America, as no known example has been found.
1884 July 22 U.S. Patent No. 302,321, Applied for December 26, 1883 - "Corkscrew" (Flat Advertising Metal Band Wire Corkscrew). A folding flat metal band corkscrew, which could also be used for product advertising on the outside and inside of the band. This corkscrew could be folded for convenient carrying in the pocket. Examples of this patent are often found today, with coloured paint advertising to catch the customers eye, and often with the patent date marked.

| | |
| --- | --- |
| | Clough manufactured a special large nickel plated decorative brass example marked CLOUGH'S PATENT JULY 22, 1884. |
| | |

The partnership of Clough & Maconnell is the manufacturers name often found marked on period U.S. examples. Later Maconnell acquired sole rights to manufacture and market this 1884 Patent. Many of the latter are marked "James M. Maconnell New York". An ad in the Pharmaceutical Era of June 23, 1898, lists J. M. Maconnell, 132 Nassau St., New York as "the sole manufacturer of Clough's patent folding corkscrews".

It is interesting to note that William Williamson was granted U.S. Patent No. 405,385 on June 18, 1889, for a very similar metal band advertising corkscrew. To my knowledge a marked example has never been found, although Jack Bandy has a piece marked "WILLIAMSON CO. CLOUGH'S PATENT", which appears identical to an 1884 Clough patent.
| | |
| --- | --- |
| 1884 July 23 British Patent No. 10,504 - Flat Metal Band Granted to E.P. Alexander, Patent Agent for W.R. Clough, for this folding metal band corkscrew. A June 1887 illustrated price list, published by E.A. Depass & Co., 3 Coleman St., London, E.C. claims they are the "Sole Agents for Great Britain". | |
_______________
1884 September 2 U.S. Patent No. 304,299 (left) by William Crabb, Applied for July 5, 1884 - Corkscrew (Wire Corkscrew) for an improvement to the "class of corkscrews that are formed from a single piece of wire". The patent describes a stronger joint between the handle and the wire helix. The claims are obviously aimed at improving Clough's Patent No. 161,755 of April 6, 1875.(right)
_______________
1885 December 15 U.S. Patent No. 332,382, "Capsule for Bottles" (Capsule Cork Remover) This capsule could be used for advertising and had integral teeth to facilitate cork removal. An 1886 advertisement for the Clough Corkscrew & Capsule Co. and an 1892 Clough & Maconnell price list illustrated his patent vial capsules, but to our knowledge no example of this capsule has been found.

The 1892 Clough & Maconnell price list which illustrated his patent vial capsules also depicts wire corkscrews with the advertising stamped on the side of the finger ring and not on the top. a version that is not known to have been found.
1886 March 2 U.S. Patent No. 337,309 Applied for August 11, 1884 - "Corkscrew" (Crabb Scarf Cut Point Corkscrew) Granted to William Crabb but intended for W.R. Clough. After Crabb's Patent for scarf cutting wire, Clough was able to design wire reel fed machines, that allowed him to supply the industry as fast as he received the orders. This important patent, which changed Clough's world, allowed medicine size corkscrews to be made from a coil of wire, scarf cut in such a manner as to provide a suitable point for entering the cork while the other end had a taper. This cut wire point allowed a corkscrew to be manufactured faster and cheaper than grinding or forging the point sharp, as had been the normal practice before.




Small 2 11/16"/6.8cm single ring with brass sheath marked CLOUGH'S PATENT 337309 with advertising "Ask your grocer for Red Star Amonia, 26 India Square, Boston.

A ground point shown above a scarf cut wire helix point. All Clough's previous patents manufactured by Williamson, with the more expensive ground/sharpened point, could now be manufactured by Clough with this less expensive type of scarf point. It is logical to assume that any wire corkscrew found with a scarf cut point, would have been made after this 1886 patent date.

Single turn finger holes, with a scarf cut helix, were manufactured in a wide range of sizes (from 1 3/16"/2.6cm long to 2 7/8"/6.35cm), wire gauges and finishes. A few of the variety produced (but I am certain not all) are shown here.

Patent No. 337,309 is sometimes marked on Clough corkscrews and it was not known how Clough acquired Crabb's patent. This was clarified through a discovery by corkscrew collector/attorney Jack Bandy. Jack, in his interest in all facts relevant to a patent, found in his Crabb patent file, that Crabb's patent attorney was no other than W.R. Clough. It appears Clough's attorney Charles C. Gill became his assistant and did the legal work. In correspondence between the Patent Office and William Crabb, definitive instructions were given by Crabb that the patent was to be issued to W.R. Clough. Somehow the patent was issued to William Crabb not W.R. Clough, however that did not seem to make any difference as it became known as Clough's Patent. Even though documents exist, in which Crabb requests the patent office to grant the patent to William R. Clough and send the patent to Clough's patent Attorney Charles C. Gill, it is not known why the patent was not awarded to Clough. Apparently Crabb and Clough later worked out an agreement and Clough ended up with the rights to the patent. There was a close relationship between them over the years as William Crabb, and his son Robert, were both partners with Clough in the original Clough Manufacturing Company, which was incorporated on June 18, 1882.
| | |
| --- | --- |
| | Three different Clough corkscrews all with bright nickel plated sheaths: Upper with double wire ring/loop finger hole marked SOUVENIR THE CLOUGH WIRE CORKSCREW CO. ALTON, N.H. PAT. NO. 337,309 Middle a single ring example marked MIDWINTER FAIR 49 CALIFORNIA 94 SOUVENIR THE CLOUGH WIRE CORKSCREW CO. ALTON, N.H. PAT. NO. 337,309 Lower a commonly found example also with single ring/loop marked 1492 HAIL COLUMBIA 1892 CORKSCREW PATS. NO337,309 441137 CLOUGH & MACONNELL, NEW YORK CHICAGO 1893 |
---