Syroco Corkscrews
In 1983 corkscrew collector Herbert Danziger wrote an article on corkscrews made by the Syracuse Ornamental Company (Syroco) of Syracuse, New York. Collectors had quite frequently run across the Syroco man with top hat and the waiter. A few others had been discovered but now their eyes were opened to a whole new world of Syroco corkscrews. The hunt was on and a many have been found since then.

Syroco was founded in 1890 and produced a line of decorative accessories for home and office. The corkscrews are compression molded with a composition of wood powder and thermoset resin. The worms and bells were supplied by Williamson Company of Newark, New Jersey. Syroco catalogs found by Danziger place the corkscrews in the time frame of c.1940-1950.

There are three types of Syroco corkscrews: Full figure with removable head to expose the corkscrew, head only and a full figure (Scotty dog only) with corkscrew attachment. Some of the figures were painted while others were stained with a walnut finish. All of the detachable heads could be purchased separately. The only full figures are the man with top hat, waiter, Indian, monk, clown, and knight. The collector should be cautious of other Syroco heads placed in these bodies or mismatched!
| | |
| --- | --- |
| | |
| Old Codger / Codger / Topper and Waiter | Monk and Clown |
| | |
| Wooden Indian | David Copperfield, Pickwick and Laughing Man |
| | |
| Bulldogs, Terrier and Police Dogs | Scotty Dogs |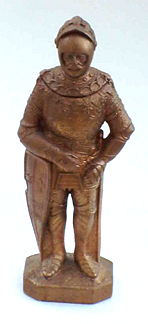 The Golden Knight
Caution!

Collecting Syroco corkscrews can lead to "Syroco Disease" which is an obsession to own everything produced by Syroco. The first symptoms are brought on by finding Old Codgers and Waiters like those shown below. These are the same figures as the corkscrews but they are shorter and have clocks in their stomachs. The disease is in full bloom when the collector recognizes other objects made from Syroco wood including clocks, book ends, brush holders, wall plaques, ashtrays, cigarette boxes, pipe holders, tie racks, towel racks, candy dishes, and napkin rings.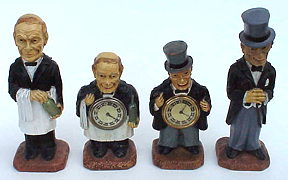 Do you have any information on Syroco you would like to share with Corkscrew Collectors on Line?
---
email: corkscrew@bullworks.net
©1997, 2000 Donald A. Bull