Ted and Carol Harris, dealers, were selling an estate for a family in San Diego California. Ted says: "We found the corkscrew in the bar. Off their living room is a small wet bar, the size of a water closet. The bar was pretty well stocked, lots of champagne, Beefeaters, Grand Marnier, Courvosier, a 1969 red French wine (label obscured), a 1959 chianti, and a number of other wines, sorry to say, upright and pretty darn ugly. There were three corkscrews, the Zigzag, a small boxed Japanese T-shape, and this corkscrew. All were simply mixed in the drawer with the plastic stirrers, wooden toothpicks and napkins from each and every golf club between here and Tokyo, actually, several examples of each napkin - oh, and lots of coasters."
The corkscrew Ted and Carol placed on ebay was Abraham Russel's January 21, 1862 American Patent No. 34,216. The photo on the left shows the Russel ready for insertion into the cork. In the second photo, the handle has been pulled down to extract the cork.
When asked if they had any idea what they had found, Ted replied "We honestly had no idea of its value. All we could say was that it looked old, hand worked and we thought it looked liked a something."
Their description on ebay simply said "This old corkscrew is 8.5" long. Has some ware [sic] and rust it looks it's age."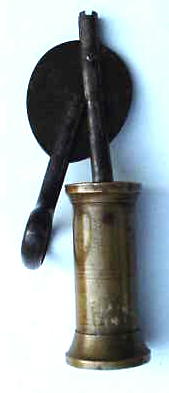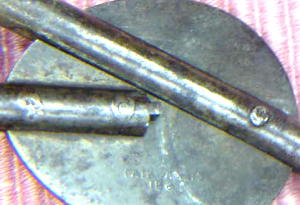 The cam is marked Pat. Jan. 21, 1862.
To sell the corkscrews on ebay, Ted says "We placed the Zig Zag on ebay with a reserve of $65.00. The Zig Zag did not make reserve. The Russell was listed with a starting bid of $10.00."
With 15 seconds until closing, the underbidder placed a bid of $13,450.00 pushing the winning bidder to $13,550.00.
There was a lot of activity on this sale, with underbidders at:
3rd: $13,250.00
4th: $12,012.00
5th: $10,950.00
6th: $7,999.00
7th: $5,600.00
8th: $5,000.00
Footnote: On August 6, 1997, a Russel was offered at the Christie's South Kensington, London auciton house. The helix on it had been replaced. The sale price was £8,625 (including buyer's premium).