Corkscrews in the Boudoir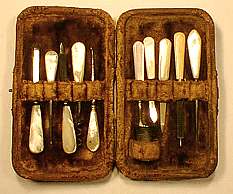 Why would a lady have a corkscrew in an implement set in her dressing or sitting room? She needed it to open perfumes, ink bottles and medicines. This velvet etui case with mother of pearl handle tools includes a corkscrew, tweezers, files, punches, a stiletto, a thimble and other necessaries.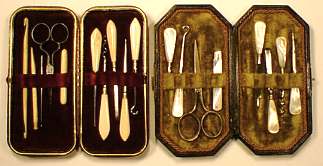 The tools in the etui at left are bone handle. This set includes scissors, a button or glove hook, tweezers, a needle case, a crochet hook and a corkscrew.

The case on the right includes mother of pearl handle button or glove hook, tweezers, file, penknife, punch, crochet hook, corkscrew and scissors.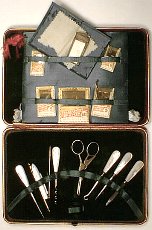 This is the most complete case I have seen and it is marked WARRANTED SHEFFIELD CUTLERY. The handles are Mother of Pearl and in addition to many of the usual tools, this etui includes packages of needles in several sizes and threads of various colors.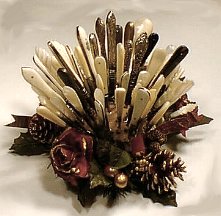 Now here is the sad part. In my bouquet are nearly 100 orphan corkscrews - all apparently taken from etuis over the years by someone who only wanted the corkscrew. There are handles of bone, ivory, ebony, mother of pearl and silver.

We can console ourselves in the knowledge that there are collectors of thimbles, button hooks, stilettos, needle cases, penknives, crochet hooks, scissors, bodkins and tweezers who have also been able to satisfy their "needs."
---
email: corkscrew@bullworks.net
GO BACK TO The Virtual Corkscrew Museum
---
©1997 Donald A. Bull