Bidwell's Corkscrew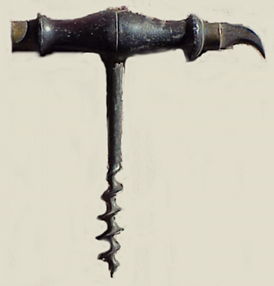 The Bidwell Mansion in Chico, California was the home of General John Bidwell. Construction of the 26 room mansion was begun in 1865. Bidwell brought his wife from the Eastern United States to live in the mansion in 1868. Bidwell lived in the mansion until his death in 1900. His wife Anne lived there until she died in 1918.

The Mansion is a California State Historic Park.

In early October, 1999 Don Bull, Bonnie Bull, and Margie Witt had a private tour of the mansion led by Judy Crain. During the hour long tour, Judy pointed out the modern conveniences (gas lighting, plumbing, water systems) that Bidwell had installed in the mansion. She gave interesting and thorough details of the furnishings that once belonged to the Bidwells.

On the third floor, Judy pointed to a small room that housed the water heater. When Bull peeked over the guard rail, he spotted a worm sticking out of the top of a box of tools on the floor. Bull asked if he could have a look and Judy obliged.

What a surprise to find the corkscrew fully marked with the Will & Finck name. Will & Finck, based in San Francisco, was a major source of corkscrews in California proclaiming in their catalog "Largest Bazaar on the Pacific Coast." The company was founded in 1863 by Frederick Will and Julius Finck. The 1906 earthquake was a major setback for the company which struggled until its demise in the 1930s.

Obviously, Bidwell had a good eye for the finer things in life! Judy has promised to find a better location for this fine corkscrew.
email: corkscrew@bullworks.net