Best Six - 1997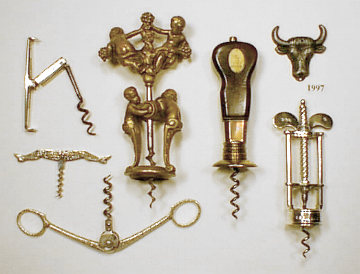 Top Left: Sterling Silver Double-hinged folding pocket corkscrew / pipe tamper made by William Tweede in London in 1808. The hallmark is on the underside of the handle.

Middle Left: Silver Legs. Per Reichborn, my business partner, has collected corkscrews for several years. I always admired his gay nineties legs corkscrew and try as I might, I could never talk him out of it. Per very generously presented that very corkscrew to me at my Retirement Luncheon in June. The top of the worm is marked REGISTERED GERMANY. The silver scales are marked STERLING. They are the "mini" size legs measuring 1 7/8" long.

Bottom Left: Scissors with ornate design on German silver handles. This is German corkscrew / champagne wire cutter Registration (D.R.G.M.) No. 10985 of January 19, 1893 by Thill and Küll. The cutlery manufacturer was founded in Solingen, Germany in 1885.

Top Mid-Left: In his 1979 book Korkenzieher, Manfred Heckmann pictures this brass corkscrew and states that on December 1, 1976 it brought a record price for corkscrews at Christie's London of £1050 or over DM4000. Another was offered for sale by Sotheby's in London on May 29, 1985 and brought a record £4620. Sotheby's described it as a "19th century English style corkscrew." My Cherubs are from the collection of Bob Nugent. The two cherubs at the top are picking grapes from a vine and the two at the bottom are holding a cask.

Top Mid-Right: Read's Coaxer. Marked READ'S COAXER 4 PARLIAMENT ST. Wood handle mounted on brass. Ivory plaque with crest inlaid in handle.Thomas Read was a cutler in Dublin in the 18th century. This corkscrew is c. 1790. Previous owners: Ted Weinberg and Leon Stark.

Right: Silver Farrow & Jackson Type made by James Kidder, London, 1799. Hallmarks appear on the butterfly nut and on the lower portion of the frame. The worm is turned into the cork and turning the nut clockwise extracts the cork.
---
email: corkscrew@bullworks.net
GO BACK TO The Virtual Corkscrew Museum
©1997 Donald A. Bull