Best Six - 1999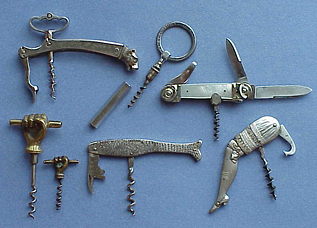 Top Left:A single lever waiter's friend by Jacques Perille, Paris. It is marked EXPRESS JHP PARIS. The worm folds neatly into the handle with the top of the worm folding into the indentation on the left. The formed neckstand folds to the handle. There is a beast head on the end of the handle.

Top Middle:A hexagonal sheath protects the worm. The top is fitted with a key ring marked GERMANY and advertising "Amaro Monte Cudine."

Top Right:Knife with three blades and a corkscrew. Mother-of-Pearl handles. German Patent No. 39,829 issued October 19, 1886 to Gebr. Hollweg in Barmen. Latches on the bolsters are lifted and turned to open the blades. A catch on the backside above the worm is rotated in order to lift the worm. When the worm is in position, the catch is rotated back to secure the worm.

Bottom Left:The 2 1/8" hand makes an excellent companion to its more common 4" parent.

Bottom Middle: Retirement and lake living, leave a bit of time for fishing - fishing for corkscrews! I caught this one in Tennessee via a left bid at an auction. The fish is German Registration No. 196995 issued March 14, 1903 to Math. Ermertz in Solingen. This waiter's friend also has a wire cutter and champagne hook.

Bottom Right:Ornate leg waiter's friend marked on the neckstand THE DETROIT PAT'D JULY 10 94. Patent No. 522,672 by Charles Puddefoot. This corkscrew was featured in Howard Luterman's 1990 Best Six. He traded it to me for a very rare corkscrew which appears in his 1999 Best Six.
email: corkscrew@bullworks.net