Bull-Burgos Corkscrew Trade
March 2000
Bull received from Burgos:

A one-of-kind work of art 5' tall corkscrew! The handle is hand turned heart of walnut that was weathered for the appearance of an antique bone handle with aging, it has a stiff bristle brush and hand forged steel faceted shank that tapers proportionately into a wire worm, it's complete with a suspension ring! Crafted by Pennsylvania artist John Zan.
Champagne knife, 6 3/4", steel, advertising G. H. Mumm & Co Cordon Rouge on handle, marked FK De Bary & Co on blade.
Wax remover, 7", steel, was designed to grip the bottle neck & remove the wax by rotating it, French made.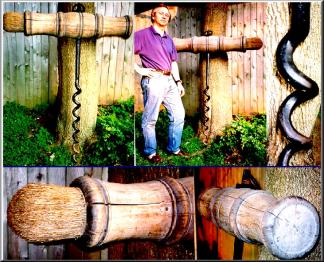 In exchange Bull sent to Burgos:

Strait Patent
Thomason
Coffee Grinder
T Handle with Cork Grip
T Handle with Foil Cutter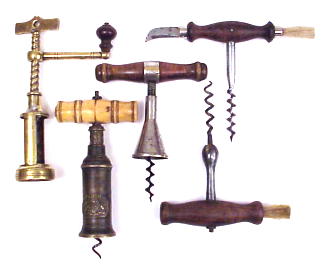 ---
email: corkscrew@bullworks.net
©2000 Donald A. Bull